CLASSIFIED ADS
---
PUBLISHER'S NOTICE
Federal and state laws prohibit employment advertisements that express a discriminatory preference on the basis of race, age, sex, color, national origin, religion, handicap, or marital status.
Lincoln Daily News will not knowingly accept advertising for employment which is in violation of these laws. Our readers are informed that employment offerings advertised are available on an equal opportunity basis.
---
TAX PREPARERS
Tax Return experience
Process individual tax returns for a private firm in Springfield. Full time, weekdays during tax season.
10 positions available!
Apply by calling Heather at Express 217-528-3000 OR email Heather.Stanley@expresspros.com
Scheduling interviews next week!

Send a link to a friend
---

GENERAL LABOR
Heavy lifters needed!
Strong back & solid work history. Full time, long term. Steel toe boots a plus! $12/hr. Call Rick at Express Employment Professionals 217-528-3000

Send a link to a friend
---
Mental Health Centers of Central IL
Full-Time Case Manager for Lincoln office.
Case Manager will provide community-based case management services for adult & behaviorally disturbed children, their families and care providers.
Must be able to participate in after-hours on-call rotation.
Bachelorís degree req. preferably in social service field. Related experience preferred.
Visit our website www.mhcci.org to view full position requirements and description, and to apply online
EEO/AAP M/F/D/V

Send a link to a friend
---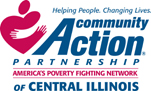 Position
Available
Family Educator
for Head Start Birth to Three in Logan County
Plan and direct Home Based individualized curriculum for infant-toddler development in the context of the home and during group socialization experiences for children and parents. Provide resource/referral services to families.
AA degree and experience in infant toddler care is required. Daily travel required. Must be willing to complete certification for infant toddler care.
Valid Driverís License and proof of vehicle insurance required.
Full time position with benefits that include earned time off, sick leave, holidays, retirement, health, dental, vision and life.
All applications must be received by November 30, 2011.
Applications available at:
Community Action
1800 Fifth Street
Lincoln
or at www.capcil.org.
Mail completed applications or resume to:
Ellen Burbage, HR Director
1800 Fifth St.
Lincoln, IL 62656
by October 28, 2011.
AA/Equal Opportunity Employer.
Minorities encouraged to apply.

Send a link to a friend
---

JOIN OUR
GROWING TEAM!
Position Available in Lincoln
Sales Associate
Bard Optical, currently ranked 37th among the Top 50 Optical Retailers in the U.S., is seeking a confident retail sales associate for our Lincoln office. A strong sales background is essential.

Your responsibilities will include, but are not limited to: retail eyewear sales, providing the highest quality patient care, assisting doctors and technicians, making optical adjustments and working with vision benefits. Optical training provided.

Must be a high school graduate or equivalent. Previous optical experience preferred.

This position offers a competitive wage and a full benefits package. 401(k) options available. Thrive in an environment that rewards performance with an opportunity for incentives. Attractive hours Monday - Saturday; closed Sundays.

18 locations and growing: Peoria, East Peoria, Washington, Pekin, Lincoln, Decatur, Forsyth, Bloomington, Champaign, Springfield, Jacksonville, Canton, Galesburg, Rock Island, Sterling, and Peru. Watch for our 19th location opening soon in Pontiac.

Watch and listen for announcements about our next office location!! Coming Soon to Pontiac!
Apply to: hr@bardoptical.com
or Fax: (309) 693-9754
Bard Optical is an equal opportunity employer
serving central Illinois for 70 years.

Send a link to a friend
---
---