Waldo Bertoni

Send a link to a friend
[October 10, 2011] MOUNT PULASKI -- Waldo E. Bertoni, 85, of Mount Pulaski, died Saturday, Oct. 8, 2011, at 10:33 a.m. at his home.
His funeral will be at 2 p.m. Wednesday at Fricke-Calvert-Schrader Funeral Home in Mount Pulaski, with the service conducted by the Rev. Rachel Stockle of the Mount Pulaski United Methodist Church. Visitation prior to the service will begin at noon.
Burial will be in Mount Pulaski Cemetery, where military rites will be conducted.

Mr. Bertoni retired from the U.S. Air Force in 1977 as a colonel.

He was born Jan. 1, 1926, in Mount Pulaski. He married Rosalie Smith, daughter of Wilbur and Hazel Smith of Chestnut, in 1948.

He is survived by his wife; one sister, Marie Benedict of Boca Raton, Fla.; and several nieces and nephews.

He was preceded in death by their only child, Paul Alan; his parents, Rinaldo and Pauline Rigali Bertoni; and his three older brothers, Sam, Albert and Renny.

He graduated from West Point Military Academy in 1948, receiving his commission as a second lieutenant. In addition to his bachelor's degree from West Point, he received a master's in electrical engineering from the University of Illinois and an MBA in research development management from the University of Chicago. He was a graduate of the Industrial College of the Armed Forces.

Waldo and Rosalie returned to his hometown of Mount Pulaski in 2005. He served as a member of the Lincoln College board of trustees, was a member of Mount Pulaski American Legion Ryman-Fuiten Post 447, Mount Pulaski Rotary and Lincoln Elks. He and his wife were members of the Mount Pulaski Township Historical Society and the Mount Pulaski 175th Planning Committee.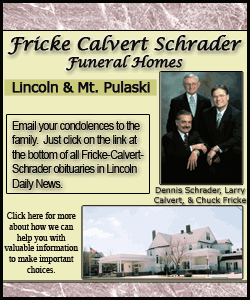 In July, Waldo was one of five to be awarded a Gen. Casimir Pulaski bronze bust as "Most Distinguished Graduate of Mt. Pulaski High School." He and Rosalie represented the 175th Committee as grand marshals of the parade at the Mount Pulaski Fall Festival in September.
Memorials may be made to the Mount Pulaski Courthouse 175th Legacy Foundation or the Lincoln College Heritage Museum.
Click here to send a note of condolence to the Bertoni family.