Sustainable landscaping, fish sale, Hartem carnival and Elizabeth Ford make Close Up
By Mike Fak

Send a link to a friend


[October 12, 2011] Sustainable backyard landscaping -– what does that mean? Simply, it involves gardening activities that do not cause long-term environmental harm nor misuse of nonrenewable resources. Plan on attending the "Sustainable Backyard Landscaping" program Oct. 18 and let Martha Smith, horticulture educator with University of Illinois Extension, introduce you to backyard management ideas that are sustainable. It really is not complicated -– once you understand the basics.
As a global society it is becoming more obvious that our actions influence others. As a society we are just beginning to identify and change our day-to-day activities to reduce or eliminate environmental outcomes that will affect future generations. Learn how you can start to do your part in your own backyard.

The program will be presented at the Logan County U of I Extension office, 980 N. Postville Drive in Lincoln, using the University of Illinois Extension telenet system. This statewide telenet program will feature a local PowerPoint slide presentation accompanied by the live voices of the instructors. Helpful handouts are included, and there will be question-and-answer interaction with the instructors.

Register now for the program Tuesday at 1 p.m. The cost is $5, payable that day.

This program is sponsored by University of Illinois Extension of Logan, Sangamon, and Menard. For more information and to register, please contact 217-732-8289 or amyhyde@illinois.edu.

University of Illinois provides equal opportunities in programs and employment.
---

The Logan County Soil & Water Conservation District is sponsoring a fall fish sale for stocking ponds. Delivery will be Oct. 25 at 9 a.m. at the parking lot at 1650 Fifth Street Road.
Species available are channel cat, hybrid sunfish, red ear sunfish, bluegill, crappie, fathead minnows, largemouth bass, walleye and triploid grass carp.
Grass carp stocking rates are generally four to six per acre and should be stocked depending on the species and abundance of vegetation. Sterile grass carp have been legalized in Illinois and may provide a solution to your weed problem.
The last day to order grass carp is Oct. 14. All other orders are due Oct. 24.
Order forms are available at the district office. Anyone interested in more information or purchasing fish may contact 217-735-5508, ext. 3, or stop by the office at 1650 Fifth Street Road, Lincoln.
---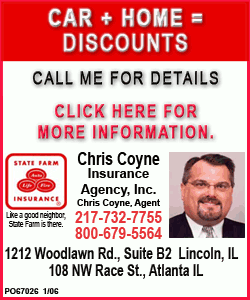 The Hartem Community Club will host their Fall Carnival on Saturday, Oct. 15, from 3 to 6 p.m. at the Hartsburg-Emden Elementary School, 309 Market St. There will be games such as bingo, a cake walk, a silent auction filled with wonderful donations from the community as well as several Logan County businesses, and a pork chop meal for $5 or a hot dog meal for $3 will be served. All are welcome to join the Hartem Community Club for this fun-filled, family-friendly event.
---
Elizabeth Ford, an eighth-grader at Zion Lutheran School in Lincoln, has been selected as the Zion Lutheran September Student of the Month. Elizabeth's ZLS activities include basketball, track, band, choir, student council, Math Bowl, Academic Bowl, and science and history fairs.
Elizabeth is a member of the Mount Pulaski Christian Church. Her church and community activities include youth group, CIY, bowling, basketball and Lake Springfield Christian Assembly. She especially enjoys playing basketball.
Her parents are Kelby and Angela Ford of Elkhart.
---