Lincoln Daily News
welcomes letters of appreciation, information and opinion on matters pertaining to the community.
As a community we need to be able to talk openly about matters that affect the quality of our lives. The most effective and least offensive manner to get your point across is to stick to the issue and refrain from commenting on another person's opinion. Letters that deviate from focusing on the issue may be rejected or edited and marked as such.
You may also send your letters by email to ldneditor@lincolndailynews.com
or by U.S. postal mail:
Letters to the Editor
Lincoln Daily News
601 Keokuk St.
Lincoln, IL 62656
Letters must include the writer's name, telephone number, and postal address or email address (we will not publish address or phone number information). Lincoln Daily News reserves the right to edit letters to reduce their size or to correct obvious errors. Lincoln Daily News reserves the right to reject any letter for any reason. Lincoln Daily News will publish as many acceptable letters as space allows.
To the editor:

"Once a Leader, U.S. Lags in College Degrees" declares a headline of the July 23, 2010, New York Times. Indeed, the United States now ranks 12th among 36 developed nations in the number of 25- to 34-year-olds with a college degree. This "education deficit" represents a threat to our nation's well-being and economic competitiveness for the next generation.

Lincoln College recognizes the reality of these difficult economic times. With the economy floundering, financial resources are scarce. Yet education may be more important than ever before in providing a brighter future for individuals and our country.

Right here locally, Lincoln College would like to announce that it is responding to these difficult times by reaching out to potential students with important opportunities and information regarding its bachelor's and associate's degree programs.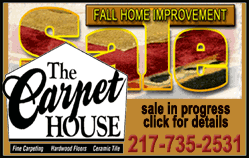 First, we would like to share with those who wanted to attend college this fall but could not, that you can enroll in the term beginning in January 2012. Lincoln College offers a full slate of classes and programs in the spring term to meet the needs of both new students and those who already have some college credit. At Lincoln College, students experience small classes and the personal attention and support services necessary to achieve their educational goals. To follow up on this opportunity, simply contact the admissions office at either campus of Lincoln College by calling 217-732-3155, ext. 252, for the Lincoln campus or 309-268-4314 for the Normal campus.
[to top of second column in this letter]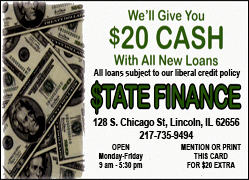 Second, beginning in the fall of 2012, the college will implement a revamped tuition and fee structure. We have learned that many prospective students and parents are discouraged from attending college as a result of the "sticker shock" encountered when first reviewing tuition and fees. In addition to the considerable financial assistance Lincoln College offers in the form of scholarships, the college will reduce its cost on the Lincoln campus from $23,000 per year for tuition and required fees to $17,500 per year. At the Normal campus, the cost will decline from $23,000 per year to $16,500 per year. While the final cost of attendance will vary somewhat based upon the individual circumstances of each student, Lincoln College will represent one of the most affordable private education choices available in the state of Illinois.
Finally, to keep a Lincoln College education affordable, we will also guarantee tuition and required fees for four semesters. That is, once a student enters the college full time, that student's tuition and required fees will not increase over the next four semesters. Because of its already low cost, summer term is excluded from this guarantee.
We at Lincoln College would like to thank all of those who have supported us over the years, including our current students, our alumni, our employees and community supporters of our fine arts and athletic programs.
In closing, if you are looking for an educational opportunity that is local, if you are looking for a supportive environment to help you succeed, if you are looking for an educational institution that truly cares about you, and, if you are looking for a brighter future, then look no further than Lincoln College.
Sincerely,
Jon Astroth
President of Lincoln College
[Posted October 14, 2011]