Miss Krause died Sept. 30, 2011, at St. Clara's Manor. She had requested that her body be cremated.

Fricke-Calvert-Schrader Funeral is in charge of arrangements.

She lived most of her adult life in Las Vegas, Nev. For 33 years she worked for Southern Nevada Telephone Co., first as a toll operator and later as a service assistant training other operators.

She was born Sept. 22, 1921, in rural Lincoln. Her parents were William August and Ida Borcharot Krause.

She is survived by one sister, Winifred Thompson; and many loving nieces and nephews, Donna Swart of San Antonio, Fla., KoAnn Chapman of Carmi, Barb Wibben of Mason City, Roger Krause of Vandalia, Gene Krause of Lincoln, Karen Stone of East Peoria, Randy Krause of Seattle, Wash., Lynde Hays of Rochester, Ronald Ray of San Diego, Calif., Kathy Gietle of Springfield, Kevin Thompson of Lincoln and Lisa Thompson of San Francisco, Calif.

She was also preceded in death by six sisters, Freida Krause of Lincoln, Leona Mann of Las Vegas, Nev., Hulda Schaffenacher of Creve Coeur, Matilda Cantrel of Jackson, Miss., Dorothy Crawford of Lincoln and LaVora Ray of San Diego, Calif.; and three brothers, Wallace of Lincoln, William of Hartsburg and Harold of Beason. Another brother, Elmer, died at birth.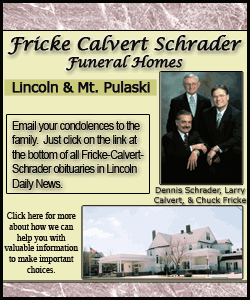 After retirement, Cecelia enjoyed traveling, quilting, crocheting, latch hooking and needlepoint.
Fifteen years ago, along with her sister Leona, Cecelia moved back to Lincoln to be closer to family. Cecelia lived at Friendship Manor prior to moving to St. Clara's Manor.
Memorials may be given to the donor's choice.
Click here to send a note of condolence to the Krause family.