Eloise Fraim

Send a link to a friend
[September 02, 2011] MOUNT PULASKI -- Eloise Fraim, 84, of Mount Pulaski, died Wednesday, Aug. 31, 2011, at 2:15 p.m. at St. Clara's Manor in Lincoln.
Her graveside service will be at 10 a.m. Tuesday, Sept. 6, at Steenbergen Cemetery, with Mark Weber officiating.

Mrs. Fraim retired from Ben Franklin in Mount Pulaski.

She was born March 21, 1927, in Golden Gate to Sanford and Lorene Price Ferguson and was raised by her grandparents, Doel and Frannie Ferguson. She married Bert Fraim on June 24, 1946 in Cisne. He preceded her in death on Oct. 7, 1988.

She is survived by one daughter, Janis (and Bill) Pierce of Mount Pulaski; a son-in-law, Gary (and Cindy) Bernahl of Farmington; four grandchildren; four great-grandchildren; and three great-great-grandchildren.

She was also preceded in death by one daughter, Judy Bernahl.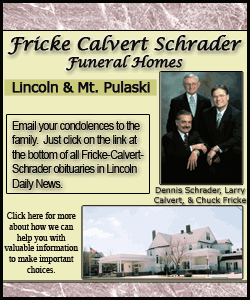 She was a member of the Mount Pulaski Christian Church.
Memorials may be made to her church.
Click here to send a note of condolence to the Fraim family.