---
121 N. Kickapoo Street
Immediate Opening for an Assistant Manager
We're looking to fill this position quickly, so if you have an interest and are qualified, please stop by our store TODAY and pick up an application!
Our hours are M-F 9-5 and Sat 9-4.
Contact Pam Sheley for more information
by emailing psheley@adi.org.
Adult applicants only. Only qualified applicants accepted.
Job Description for Assistant Manager
Hours – Must be flexible. Retail hours (includes Saturdays and Sundays during peak seasons). Approximately 20 hours per week
Experience – Retail experience a must. Need to have salesmanship qualities (can learn and know inventory quickly – be able to suggest ideas to customers – engage customers in the store – friendly)
Computer knowledge – must be comfortable using the computer and learn quickly the Point of Sale system as well as online advertising and web-site updates (e-newsletter, Facebook, website)
Maintain schedules – responsible for scheduling employees
Maintain communication with sales reps – responsible for making appointments with sales reps and meeting with them, as well as emailing orders to sales reps
Inventory – responsible for oversight of inventory – keeping track of items that sell well and need to always be in stock as well as items that have been in inventory too long and need to be put on sale to move out of store – keeping track of the requests from customers as well as knowing the companies we order from, what the minimum order is for a company, who we might be able to get special requests from, whether or not we would have enough other items from a company to make a minimum order; create orders for inventory and submit to manager for approval
Book sales – helpful to know books – both adult books and children's book to be able to make suggestions, know book companies, keep popular books in stock; also responsible for placing book orders for special orders, keeping track of backorders
Communication- must be able to communicate effectively with all staff and with the store manager; responsible for maintaining an adequate number of staff to man the store for all open hours; training new staff members; conducting staff meetings when necessary; create and maintain an effective method for communicating with staff members who may not be in the store as often;
Hiring/firing – must be able to dismiss staff (after consultation with manager) as well as interview and hire new staff (with approval from manager)
Creativity – must be able to create or envision window and inside store displays (and be able to communicate to staff members who may need to create the displays); be aware of best placement of merchandise, flow of customers (where do they go first to look at merchandise, are they walking in and out without seeing anything to catch their attention); placement of shelving and displays; ideas for generating excitement and ways to bring customers into the store as well as making sure they find something of interest when there (marketing, sales, advertising ideas)

Send a link to a friend
---
Testing for Lincoln Fire Department
Candidate Firefighter
**successful candidates will be added to the eligible to be hired list, there are NO openings at this time.**
Mandatory orientation
Saturday May 5th
Lincoln Park District Railer Room
9:00 A.M.

Written Test May 19th
(must have attended mandatory orientation)
Lincoln Park District Ballroom
9:00 a.m.
General Aptitude written test
(study guide available upon request)
Physical test requires a valid CPAT (Candidate Physical Agility Test) Card. City of Lincoln Web site identifies test sites, times and contact numbers.

Test fees responsibility of candidate.

No applications before orientation, Applications will be completed at Orientation bring photo ID, birth certificate, military documentation, copies of Firefighter certification and EMS license. Must be 21 at time of hire and have a high school diploma, No fire and EMS experience is required to test

The Lincoln Park District is located at 1400 Primm Road Lincoln Illinois

Send a link to a friend
---
Eaton Corporation Lincoln, Illinois
Now taking applications
Immediate openings for seasonal and fulltime employees
We are seeking applicants with high school degrees or equivalent, an excellent work history, and the ability to work 1st or 2nd shift.
Prior manufacturing experience, especially in the assembly or metal fabrication operations is a plus for consideration.
Positions start at $ 11.78 an hour. Seasonal employment is considered to be through late summer/early fall. Successful seasonal employees may be eligible for regular full time openings in the future.
To apply for these positions you may visit our website at www.eaton.com/careers and search for jobs in Lincoln, IL.

Send a link to a friend
---

2 OPENINGS
AVAILABLE
Locally owned community bank is looking for a mortgage originator and a mortgage processor to fill full-time positions in the Dewitt and Logan County area.
Applicants must have 2+ years of experience handling real estate loans, strong customer service skills, knowledge of secondary market mortgage products and guidelines, excellent organizational and time management skills, and basic computer knowledge.
Send Resume to:
Jeanne Scheurer
State Bank of Lincoln
PO Box 529
Lincoln, Illinois 62656
Or by email to:
Member FDIC. Equal Opportunity Employer.

Send a link to a friend
---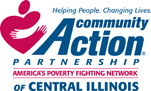 Opening Available
PUBLIC TRANSIT
DISPATCHER
Community Action is looking for a self-motivated PUBLIC TRANSIT DISPATCHER to be responsible for the daily operations and oversight of the public transportation dispatching services.
Responsible for assigning transportation "jobs" to drivers using routing software, handle complaints from public, assist with required reporting, excellent communication skills.
Proficient in all Microsoft and web based applications. Valid Driver's License and proof of vehicle insurance required.
Benefits include health, dental, vision and life insurance, vacation and sick leave, 403 (b) retirement plan and paid holidays.
Applications available at www.capcil.org
Mail completed applications or resume to:
Ellen Burbage, HR Director
1800 Fifth St.
Lincoln, IL 62656.
All applications must be received by April 18, 2012.
AA/Equal Opportunity Employer. Minorities encouraged to apply.

Send a link to a friend
---
Part-time veterinary assistant
Qualified individual must enjoy working with pets and the public and have basic computer knowledge.
Please send resume with references to:
Lincoln Animal Hospital
1415 N. Kickapoo St.
Lincoln IL 62656

Send a link to a friend
---

CNA's
Caring and compassion are the rule, not the exception at Vonderlieth Living Center! With many years of experience in the health care industry, we have been recognized as one of the leaders of quality care nursing services. To stay the leader, we need people like you – professional nurse aides dedicated to delivering quality care to our long term care residents.
We currently have full and part time openings for the second shift. We offer you a competitive wage, great benefit package and a wonderful staff of caregivers to work with, plus much more!
Please apply online or send resume to:

Vonderlieth Living Center
Attn: Jo Hillard
1120 N. Topper Drive
Mt. Pulaski, IL 62548
www.heritageofcare.com

Send a link to a friend
---
Writers wanted
The Lincoln Daily News is seeking writers for local stories in the Logan County area. Experience not necessary but computer and writing skills a must. Pay is per article. Must have own transportation. Story ideas are provided but we are always open to suggestions.
If you have always wanted to write for a publication and enjoy writing positive stories about people places and things; Please send a brief history of your writing experience and or a small sample of your work to jyldn@lincolndailynews.com

Send a link to a friend
---
---