Send a link to a friend
August 2012
---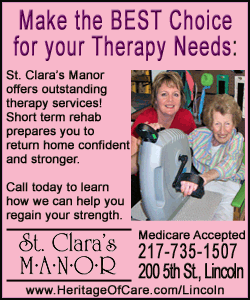 Tuesday, Aug. 7
Workshop for writers
SPONSOR: Lincoln Writer's Club and Word Weavers Land of Lincoln
WHO: All area writers and would-be writers
DETAILS: Linda L. Allspach Sheehan, originally of Mount Pulaski, will demonstrate how to use online tools to publish a book.
(See article.)
WHERE: Lincoln College, Room 104 of Gehlbach Hall, on Hennepin Street
WHEN: 7-8:30 pm
Wednesday, Aug. 8
Lincoln Farmer's Market
SPONSOR: Lincoln Farmer's Market
WHO: Public
DETAILS: Local vendors with locally grown produce, baked goods, rag rugs, homemade dog biscuits, hand-sewn items, wood signs, jams and jellies, plants.
WHERE: Scully Park, 316 S. Kickapoo St.
WHEN: 3-6 pm
Farmers' Market
SPONSOR: Farmers' Market
WHO: Public
DETAILS: Fresh vegetables, fruits, herbs, plants, baked goods and crafts
WHERE: Latham Park
WHEN: 3:30-6 pm
Thursday, Aug. 9
Scholastic Book Fair
SPONSOR: Lincoln Public Library, Youth Services Department
WHO: Public
DETAILS: Scholastic Book Fair for children and adults. Purchase books for your home libraries and help the public library earn prizes for kids too.
http://bookfairs.scholastic.com/bookfairs/cptoolkit/homepage.do?method=homepage&url=lincolnpubliclibrary
WHERE: Library Annex
WHEN: 9 am-6:30 pm
(Continued on Friday, 9 am-4 pm)
Friday, Aug. 10
Scholastic Book Fair
SPONSOR: Lincoln Public Library, Youth Services Department
WHO: Public
DETAILS: Scholastic Book Fair for children and adults. Purchase books for your home libraries and help the public library earn prizes for kids too.|
http://bookfairs.scholastic.com/bookfairs/cptoolkit/homepage.do?method=homepage&url=lincolnpubliclibrary
WHERE: Library Annex
WHEN: 9 am-4 pm.
(Continued from Thursday)
Saturday, Aug. 11
Lincoln Farmer's Market
SPONSOR: Lincoln Farmer's Market
WHO: Public
DETAILS: Local vendors with locally grown produce, baked goods, rag rugs, homemade dog biscuits, hand-sewn items, wood signs, jams and jellies, plants.
WHERE: Scully Park, 316 S. Kickapoo St.
WHEN: 7 am-noon
Farmers' Market
SPONSOR: Farmers' Market
WHO: Public
DETAILS: Fresh vegetables, fruits, herbs, plants, baked goods and crafts
WHERE: Latham Park
WHEN: 8 am-noon
Electronics recycling collection
SPONSOR: Logan County Habitat for Humanity
WHO: Open to public
DETAILS: Year-round electronics recycling on the second Saturday of each month.
(See article.)
WHERE: Habitat warehouse, 915 Woodlawn Road
WHEN: 9 am-noon
Glass recycling collection
SPONSOR: Logan County Joint Solid Waste Agency, Lincoln Woman's Club and Verallia Saint-Gobain Containers
WHO: Open to public
DETAILS: Glass collection on the second Saturday of each month -- May through October.
(See article.)
WHERE: Logan County Fairgrounds, main entrance
WHEN: 9 am-noon
Meeting of Logan County Democrats
SPONSOR: Logan County Democrats
WHO: All Logan County Democrats are welcome to attend.
WHERE: Owl's Roost, 427 Pulaski St.
WHEN: 10 am
Test-drive fundraiser
SPONSOR: LCHS Band Boosters, Lincoln Chrysler Dodge & Jeep
WHO: Public
DETAILS: LCHS Band Boosters are again partnering with Dodge for a test-drive fundraiser. The Band Boosters will receive $20 for each licensed driver who test-drives a car. The goal is to raise $3,000. Bring your driver's license and help raise money for the band.
WHERE: Circle drive at LCHS
WHEN: 10 am-1:30 pm
Cruise-in at New Holland
SPONSOR: New Holland Volunteer Firemen
WHO: Public
DETAILS: Cars, trucks, motorcycles, music, 50-50 drawing, door prizes, food by New Holland Fire Department, friends, fun.
WHERE: Downtown New Holland
WHEN: 4:30-8:30 pm
Monday, Aug. 13
Pale Riders Dance Club
SPONSOR: Veterans of Foreign Wars Post 1756
WHO: Public welcome
DETAILS: Country western music. Fee per person for every six weeks.
WHERE: Freedom Hall Event Center, 915 Fifth St.
WHEN: 7-9 pm every Monday
Wednesday, Aug. 15
Lincoln Farmer's Market
SPONSOR: Lincoln Farmer's Market
WHO: Public
DETAILS: Local vendors with locally grown produce, baked goods, rag rugs, homemade dog biscuits, hand-sewn items, wood signs, jams and jellies, plants.
WHERE: Scully Park, 316 S. Kickapoo St.
WHEN: 3-6 pm
Farmers' Market
SPONSOR: Farmers' Market
WHO: Public
DETAILS: Fresh vegetables, fruits, herbs, plants, baked goods and crafts
WHERE: Latham Park
WHEN: 3:30-6 pm
Thursday, Aug. 16
Rotary chicken dinner fundraiser
SPONSOR: Lincoln Rotary
WHO: Public
DETAILS: Nelson's grilled half-chicken dinner. Drive-thru. Tickets can be purchased from any Rotarian, by calling the Lincoln/Logan Chamber of Commerce office at 735-2385 or at the chamber office.
(See article.)
WHERE: Pick up meals at the parking lot next to the Farm Bureau building, corner of Pulaski and McLean streets
WHEN: 4-6:30 pm
Friday, Aug. 17
Diabetes support group
SPONSOR: Abraham Lincoln Memorial Hospital
WHO: People with diabetes mellitus. Family members, friends and caregivers also welcome.
DETAILS: Topic: "Beating the Heat." Free meeting. No registration required. For more information, call Jennifer DiPasquale at 217-605-5535 or e-mail her at diabetes@almh.org.
WHERE: ALMH, Wombacher Room
WHEN: 11 am
Dinner lecture: "Elephants in Lincoln ... The Mammoth Discovery"
SPONSOR: Elkhart Historical Society
WHO: By reservation
DETAILS: Guest lecturer: Dennis Campbell, Lincoln College science professor. Call 217-947-2238 for reservations, then go to www.elkharthistoricalsociety.org for a reservation form.
Reservation forms may also be picked up at Horsefeathers in Elkhart.
(See article.) (See latest article.)
WHERE: Wild Hare Cafe, Elkhart
WHEN: 5:30 pm
Saturday, Aug. 18
Lincoln Farmer's Market
SPONSOR: Lincoln Farmer's Market
WHO: Public
DETAILS: Local vendors with locally grown produce, baked goods, rag rugs, homemade dog biscuits, hand-sewn items, wood signs, jams and jellies, plants.
WHERE: Scully Park, 316 S. Kickapoo St.
WHEN: 7 am-noon
Farmers' Market
SPONSOR: Farmers' Market
WHO: Public
DETAILS: Fresh vegetables, fruits, herbs, plants, baked goods and crafts
WHERE: Latham Park
WHEN: 8 am-noon
Waynesville Fall Fling
WHO: Public
DETAILS: Breakfast at the Methodist Church, pet show, inflatables, music, carnival games and food throughout the day, along with townwide back-to-school garage sales. The theme for the afternoon parade will be "Waynestock 2012."
WHERE: Waynesville
WHEN: Activities all day. Parade at 3 pm.
Dog wash
SPONSOR: Humane Society of Logan County
DETAILS: (See information in Close Up.)
WHERE: AutoZone, 1206 Woodlawn Road
WHEN: 10 am-1 pm
Ice cream social
SPONSOR: Atlanta United Methodist Church
WHO: Everyone is invited
DETAILS: Hot chicken sandwiches, ham sandwiches, and a variety of ice cream, homemade pies and cakes will be served. Free-will offering will be accepted.
WHERE: Atlanta UMC, corner of Second and Race streets, one block west of the Red Wing bowling alley, Atlanta
WHEN: 4-7 pm
Monday, Aug. 20
Pale Riders Dance Club
SPONSOR: Veterans of Foreign Wars Post 1756
WHO: Public welcome
DETAILS: Country western music. Fee per person for every six weeks.
WHERE: Freedom Hall Event Center, 915 Fifth St.
WHEN: 7-9 pm every Monday
Wednesday, Aug. 22
Lincoln Farmer's Market
SPONSOR: Lincoln Farmer's Market
WHO: Public
DETAILS: Local vendors with locally grown produce, baked goods, rag rugs, homemade dog biscuits, hand-sewn items, wood signs, jams and jellies, plants.
WHERE: Scully Park, 316 S. Kickapoo St.
WHEN: 3-6 pm
Farmers' Market
SPONSOR: Farmers' Market
WHO: Public
DETAILS: Fresh vegetables, fruits, herbs, plants, baked goods and crafts
WHERE: Latham Park
WHEN: 3:30-6 pm
Aug. 24-26
Lincoln Art & Balloon Festival
SPONSOR: Lincoln/Logan County Chamber of Commerce
WHO: Public
DETAILS: http://www.lincolnillinois.com/ABF.aspx
WHERE: Downtown Lincoln and Logan County Airport
Friday, Aug. 24
Festival kickoff parade
SPONSOR: Lincoln/Logan County Chamber of Commerce
WHO: Public
DETAILS: (See article.)
WHERE: Parade route goes from Wyatt and Kickapoo to the Logan County Airport.
WHEN: Parade lineup at 2:30 pm; parade starts at 3:30 pm.
Saturday, Aug. 25
Lincoln Farmer's Market
SPONSOR: Lincoln Farmer's Market
WHO: Public
DETAILS: Local vendors with locally grown produce, baked goods, rag rugs, homemade dog biscuits, hand-sewn items, wood signs, jams and jellies, plants.
WHERE: Scully Park, 316 S. Kickapoo St.
WHEN: 7 am-noon
Farmers' Market
SPONSOR: Farmers' Market
WHO: Public
DETAILS: Fresh vegetables, fruits, herbs, plants, baked goods and crafts
WHERE: Latham Park
WHEN: 8 am-noon
Annual used book sale
SPONSOR: Lincoln Public Library
WHO: Public
WHERE: Lincoln Public Library, basement of Carnegie Building
WHEN: 9 am-5 pm
Marine Corps League Roadside Cafe
SPONSOR: Marine Corps League
WHO: Public welcome
DETAILS: Pork chop sandwiches, soda and chips.
WHERE: 915 Fifth St.
WHEN: 10 am-2 pm
Sunday, Aug. 26
Annual used book sale
SPONSOR: Lincoln Public Library
WHO: Public
WHERE: Lincoln Public Library, basement of Carnegie Building
WHEN: 10 am-2 pm
Car show
SPONSOR: Railsplitter Antique Auto Club
WHO: Public
DETAILS: http://railsplitterantiqueautoclub.webs.com/events.htm
WHERE: Downtown Lincoln
WHEN: 1-4 pm
Dance Club
SPONSOR: Veterans of Foreign Wars Post 1756
WHO: Public welcome
DETAILS: Donna Weghorst. Fee reduced for members.
WHERE: Freedom Hall Event Center, 915 Fifth St.
WHEN: 6:30-9:30 pm
Monday, Aug. 27
Blood drive
SPONSOR: Holy Family Church
WHO: Open to the public
DETAILS: Central Illinois Community Blood Center blood drive. To sign up, call Alexis at 241-7545 or online at www.bloodcenterimpact.org, using group code 60057. Eat before donating, and bring a photo ID.
WHERE: Lincoln Masonic Center, 2022 N. Kickapoo
WHEN: Noon-6 pm
Pale Riders Dance Club
SPONSOR: Veterans of Foreign Wars Post 1756
WHO: Public welcome
DETAILS: Country western music. Fee per person for every six weeks.
WHERE: Freedom Hall Event Center, 915 Fifth St.
WHEN: 7-9 pm every Monday
Wednesday, Aug. 29
Lincoln Farmer's Market
SPONSOR: Lincoln Farmer's Market
WHO: Public
DETAILS: Local vendors with locally grown produce, baked goods, rag rugs, homemade dog biscuits, hand-sewn items, wood signs, jams and jellies, plants.
WHERE: Scully Park, 316 S. Kickapoo St.
WHEN: 3-6 pm
Farmers' Market
SPONSOR: Farmers' Market
WHO: Public
DETAILS: Fresh vegetables, fruits, herbs, plants, baked goods and crafts
WHERE: Latham Park
WHEN: 3:30-6 pm