CLASSIFIED ADS
---
PUBLISHER'S NOTICE
Federal and state laws prohibit employment advertisements that express a discriminatory preference on the basis of race, age, sex, color, national origin, religion, handicap, or marital status.
Lincoln Daily News will not knowingly accept advertising for employment which is in violation of these laws. Our readers are informed that employment offerings advertised are available on an equal opportunity basis.
---


State Bank of Lincoln is hiring for two part-time teller positions.
The schedule will be 20-25 hours per week, which includes working every other Saturday.
If you are interested, please complete an application or send your resume to:
Kendall Hurley
State Bank of Lincoln
PO Box 529
Lincoln, IL. 62656
State Bank of Lincoln Member FDIC, EOE

Send a link to a friend
---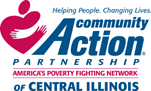 for Head Start
Birth to Three
Program
Family Educator for Head Start Birth to Three in Logan County.
Plan and direct Home Based individualized curriculum for infant-toddler development in the context of the home and during group socialization experiences for children and parents.
Provide resource/referral services to families.
Daily travel required.

Must be willing to complete certification for infant toddler care.

AA degree and experience in infant toddler care is required.

Valid Driverís License and proof of vehicle insurance required.

Full time position with benefits that include earned time off, sick leave, holidays, retirement, health, dental, vision and life.
Applications available at www.capcil.org.

Mail completed applications or resume to:
Ellen Burbage, HR Director
1800 Fifth St.,
Lincoln, IL 62656.
All applications must be received by August 31, 2012.
AA/Equal Opportunity Employer. Minorities encouraged to apply

Send a link to a friend
---
Full time and part time teacher and assistant opportunities
Teacher - 60 semester hours of college with 6 hours related to early childhood education or 30 semester hours of college with 6 hours related to early childhood education and 1 year of experience in early childhood
You may pick-up an application or send resumes and transcripts to:
Little Lambs Day Care
Attention: Gretchen Jones
1500 N. McLean St.
Lincoln, IL. 62656
217-732-4411
info@littlelambsdaycare.org

Send a link to a friend
---
OFFICE ASSISTANT POSITION AVAILABLE
Our team is looking for a well organized, dedicated professional for information handling, office management, and providing administrative support to management.
Job duties include but are not limited to:
Handle multifaceted clerical tasks (e.g. data entry, filing and record management, crating spreadsheets) of highly sensitive information.

Set and maintain filing systems using electronic document storage

Manage contacts and calendars

Serve as the first point of contact for all clients, potential employees and outside wholesalers

Provide administrative assistance as needed
Requirements:
Proficient use of MS Outlook, MS Excel, and MS Word

Good typing skills

Good communication skills both written and verbal

Good interpersonal skills

Good organizational Skills
Email resume with "OFFICE ASSISTANT" in the subject line to:

Send a link to a friend
---

Eaton Corporation
Lincoln, Illinois
Employment Available
Eaton manufacturing plant in Lincoln has immediate openings for seasonal and fulltime employees.
We are seeking applicants with high school degrees or equivalent, an excellent work history, and the ability to work 1st or 2nd shift.
Prior manufacturing experience, especially in the assembly or metal fabrication operations is a plus for consideration.
Positions start at $ 11.78 an hour.
Seasonal employment is considered to be through late summer/early fall.
Successful seasonal employees may be eligible for regular full time openings in the future.
To apply for these positions visit our website at www.eaton.com/careers
and search for jobs in Lincoln, IL.

Send a link to a friend
---
Temporary Full Time Positions Available
Harvest Outside Help
East Lincoln Farmers Grain is looking for Outside Harvest help. Must have drivers license and your own transportation. Harvest Scale Operator East Lincoln Farmers Grain is looking for reliable, responsible, customer friendly workers to operate computer scales during grain harvest. Computer Experience Preferred.
Interested parties may apply at:
East Lincoln Farmers Grain
1418 1800th Street (on old 66)
Lincoln, IL

Send a link to a friend
---
Retail Merchandiser positions open
in the Clinton and Lincoln area, flexible hours,
Learn more and apply online at www.americangreetings.jobs
EOE.

Send a link to a friend
---
---