Lincoln Daily News
welcomes letters of appreciation, information and opinion on matters pertaining to the community.
As a community we need to be able to talk openly about matters that affect the quality of our lives. The most effective and least offensive manner to get your point across is to stick to the issue and refrain from commenting on another person's opinion. Letters that deviate from focusing on the issue may be rejected or edited and marked as such.
You may also send your letters by email to ldneditor@lincolndailynews.com
or by U.S. postal mail:
Letters to the Editor
Lincoln Daily News
601 Keokuk St.
Lincoln, IL 62656
Letters must include the writer's name, telephone number, and postal address or email address (we will not publish address or phone number information). Lincoln Daily News reserves the right to edit letters to reduce their size or to correct obvious errors. Lincoln Daily News reserves the right to reject any letter for any reason. Lincoln Daily News will publish as many acceptable letters as space allows.
To the editor:

On Jan. 21, 2012, a knock came to the apartment door around 6 p.m. I opened it and there stood a lady with a smile on her face, two meals in hand, only introducing herself as Michelle and [saying] that someone signed our name (my son and mine) to have these meals delivered. She also explained that she was from a new organization here in town known as "Logan County Love."

She told me that it is a Christian, loving group that reaches out to the community as Jesus taught (teaches) us to do. Michelle told me that this group can be found on Facebook under Logan County Love.

I am now a part of this group. At my first meeting the following Tuesday, I learned that free meals are served the third Saturday of the month at St. John United Church of Christ here in town. The cost, as I said, is free, but donations are welcome. Canned and perishable foods will go to one of the local food pantries, and cash donations will be used to service the next meal. Serving and delivery times are 5 p.m. to 7 p.m.

[to top of second column in this letter]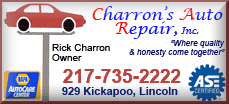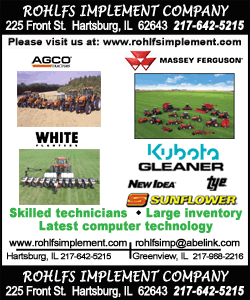 If anyone is interested, they may phone Andrea Dykman at 309-267-2825 or Tiffany Werth at 217-737-9526.
Check us out on Facebook also at Logan County Love.
We are all about serving others. Come join us for a meal of spaghetti, garlic bread, salad and dessert on Feb. 18 from 5 to 7 p.m.
Debbie Thompson
[Posted February 10, 2012]