The head of the soldier was quickly rescued and today is on display inside the courthouse as a memorial to the original statue, erected in 1869.

Soon after the loss of the old soldier, a committee formed to commission a replacement statue.

The new, bronze statue was erected, and on April 9, 2011, there was a public dedication ceremony on the courthouse lawn.

Tuesday evening, Chuck Conzo, who serves on the statue committee and is the city treasurer, brought a request to the city council.

He explained that the statue committee, which is co-chaired by Paul Gleason and JoAnne Marlin, is still in existence primarily because there is one last matter that needs to be dealt with: what to do with the old statue.

When the original statue, which is made of marble, fell to the ground, it broke into several large pieces. Conzo said the pieces are now being stored, some in a county garage and some in the courthouse basement.

The committee has debated what to do with the old soldier, and they have concluded the right thing to do would be to give the old statue a proper burial.

Conzo said the committee would like to do this at Postville Park. He noted Postville Park holds significance in its history with Abraham Lincoln and the Civil War; thus, the committee feels it is the right location.

He said they would like to bury the soldier 10 feet to the west of the polling place in the park, and they want to erect a marble marker similar to a tombstone at the location.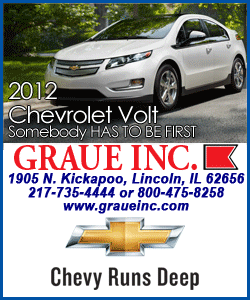 Marlin, who was at the meeting but did not speak to the council, had said beforehand that the statue is very heavy and can't be moved without a tractor.
Conzo said that Tracy Jackson, city street and alley superintendent, has said the street department will assist in moving the statue to the park.
As the person chairing the building and grounds committee, Alderwoman Jonie Tibbs said she thought it was a very honorable thing to do for the old statue, and she requested that a motion to approve the committee request be placed on next week's agenda.
[By NILA SMITH]
Past related articles