Visitation will be 3-6 p.m. Thursday at Fricke-Calvert-Schrader Funeral Home in Lincoln, followed by his funeral at 6 p.m. The Rev. Tony Shuff will conduct the service.

There will be a private graveside service at a later date.

Mr. Olden worked for the Illinois Central Railroad for 41 years, ending his career as a signal inspector.

Garry was born on July 21, 1941, in Kinmundy to Cliff and Nora Brasel Olden. He married Margaret R. Bouseman on June 9, 1957, in Kinmundy.

He is survived by his wife, of Lincoln; and five children, Pamela (and Daniel) Wolfe, Sherri (and Victor) Clark, Charles (and Debbie) Olden, Scott (and Holly) Olden and Cristine Olden.

He was preceded in death by his parents and his brother, Mike Olden.

Garry loved sports. He was an avid Green Bay Packer fan as well as a die-hard St. Louis Cardinal fan, having tried out for the team in the 1950s. He was very involved with his children's and grandchildren's many sports activities, from keeping score at Hilltopper basketball games, umpiring and refereeing games to maintaining the ball diamonds at Topper field, WLB and others, but most importantly he was a fan. He played men's slow-pitch softball for many years with teams from Decatur and Mount Pulaski; Chrysler, Bonds, George's IGA, Bo-Jac and Decatur Oxygen, which won the national tournament in the early 1970s.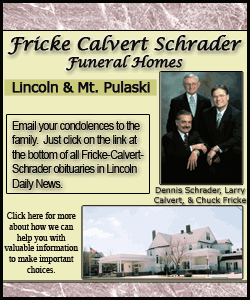 He was also very active in his church and was an example of Christ to many.
He was the best husband, father, grandfather, uncle and friend. He will be missed terribly, but his memory lives on in each of us.
Out of respect for Garry, the family has chosen to have a closed-casket service, so he can be remembered as he was.
In lieu of flowers, memorials may be made to the Olden family.
Click here to send a note of condolence to the Olden family.