Review by Jamie Kaiser
From the moment I first saw the title of the book "C.R. Mudgeon," it made me smile, and it continued to amuse me until the very end. This heartwarming story about the beauty of friendship is sure to delight both children and their grown-ups.
C.R. Mudgeon is a practical little hedgehog who likes his life just the way it is ... the same! He eats the same supper every night, the same dessert each Tuesday (and only on Tuesday). He even reads the same book -- "Medical Cures from A to Z" -- in the same chair, every night. And that's just the way he likes it. Then one Tuesday, everything changes when he walks out of his house and finds that a new neighbor has moved into the tree next door. Not just any neighbor, but a bright-eyed squirrel named Paprika.

Paprika doesn't just have bright eyes, she has bright everything. Her clothes, her house, her flowers, everything that Paprika touches is bursting with life and color. She loves the spice that life gives, figuratively and literally. There's only one problem ... Paprika's color makes C.R. see spots, her spicy food makes his soup taste droopy, and her mariachi band gives him a headache. It's all too much, so he sends her a letter asking her to move to a faraway tree. C.R. soon realizes that life without Paprika is as dull and bland as his soup.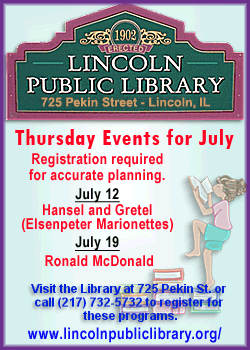 Aside from the feel-good friendship storyline, every detail of Julian Hector's illustrations makes this book even more enjoyable. His chalklike pictures and penciled expressions are sure to catch your eye, from the dull colors that display the boredom of C.R's life, along with his miserly expression, to Paprika's flowery gowns and Latin American affinities. The illustrations alone will spur conversation for kids and their grown-ups. I especially enjoyed C.R.'s wilted boutonniere, the hanging cage containing his pet cricket and Paprika's thermometer earrings.
Add some spice to your life by checking out this book and many other friendship-inspired books at the Lincoln Public Library, 721 Pekin St.
[Text from review by Jamie Kaiser, youth services clerk, Lincoln Public Library District]