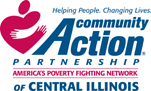 POSITION
AVAILABLE
STARTING
IN AUGUST
Staff Support Teacher for Head Start classrooms
in Dewitt, Logan and Piatt Counties.
32 hours per week starting August, 2012.
Must be DCFS Site Director qualified (18 college credits in early childhood education or AA). Be able to implement educational activities to insure compliance with Head Start Performance Standards and DCFS Licensing Standards in various classrooms.
Daily travel required. Reliable transportation and current vehicle insurance required.
Benefits include holidays, retirement, dental, vision and life.
Applications available at Community Action, 1800 Fifth Street, Lincoln, IL or www.capcil.org.
Mail completed applications or resume to:
Ellen Burbage, HR Director

1800 Fifth St.

Lincoln, IL 62656.
All applications must be received by June 8, 2012.
AA/Equal Opportunity Employer. Minorities encouraged to apply.