The Nathan Turner Memorial Fishing Clinic & Derby will be held again this summer. The free fishing clinic explores the fundamentals and safety issues of fishing. Herb Drier with the Illinois Department of Natural Resources will be at the park district with displays and giveaways. He will teach young anglers how to tie on a hook, casting techniques and the usage of different baits. At the end of the presentation, there will be drawings for fishing poles and equipment. The clinic will be on Tuesday, June 5, from 6:30 to 7:30 p.m.

The free fishing derby is hosted by Hickory Lane Campground, near Atlanta. In the past, the pond has been stocked just days before the event. Prizes will be awarded in several different categories in this competitive but fun event. The Lincoln Police Department D.A.R.E. program will contribute to the expenses of the fishing derby. Chief Ken Greenslate will be on hand cooking hot dogs and providing sodas to the fishermen and their families. Parental approval is a must, and parents are encouraged to attend. The event will be on Saturday, June 9, from 9 a.m. to noon.

The park district is also offering hunter safety education. Illinois law requires that anyone born on or after Jan. 1, 1980, will not be issued a hunting license unless they take a valid hunter education course. Logan County Quail Unlimited and Delta Waterfowl -- Lincoln Land Group are the sponsors of this educational program. Individuals completing the minimum 10-hour class and successfully passing the final examination will receive an Illinois Certificate of Competency and a graduation patch. There is no cost to take this course, and refreshments and lunch will be provided to the students. Students must provide a valid Social Security number and attend both days to graduate. Preregistration is strongly encouraged due to limited seating space. The course begins on Friday evening, June 1, from 6 to 10 p.m., and will continue on Saturday, June 2, from 9 a.m. to 3 p.m.

Does anyone in your family want to take tennis lessons? Julie Harris Larson, a former tournament tennis player who has taught at the park district for a number of years, will be the instructor. She was ranked No. 1 her entire competitive career. Players will be grouped by age divisions. Lessons are tailored for the beginners to intermediate skill levels, focusing on forehand and backhand, serve and strategy. All players should bring their own racquets. Lessons will be on the indoor tennis courts, and everyone should wear tennis shoes. Tennis balls will be provided. Lessons will begin Monday, June 4, and end Friday, June 8. Consult the website or call 732-8770 for lesson times.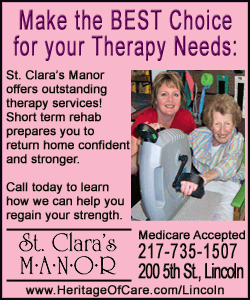 Tee ball is a noncompetitive introduction to baseball for both boys and girls. The basic skills of hitting, fielding, catching, throwing, base running and safety will be stressed through drills and game situations. Emphasis is on sportsmanship, teamwork and fun. Roster information will be available at the front desk. T-shirts, caps and schedules will be distributed at the first practice. All athletes must wear sneakers and have their own ball glove. The season will last for six weeks. In case of inclement weather, tee ball sessions will be indoors on the SportsCenter courts. Games will be at the park district on Saturday mornings.
Katrina Schreiner will be the tee ball coach again this year. An alum of WLB, LCHS and attending ISU this fall, she has a strong sports history. She has coached volleyball and tee ball in the past and loves working with kids, helping them learn the basics about sports. The park district welcomes her back and is glad to have her on board.
Jump-start your imagination with the park district's weeklong Creative Drama Camp. The week will be filled with improvisations, fun theater games and warm-ups, as well as art, crafts and a busy rehearsal schedule. Young actors and actresses will have a chance to put on a performance for their families and friends on Friday, the final day of the camp. Bring your sack lunch, a swimsuit and a towel for a fun break at the pool Monday and Thursday at Lincoln College. Transportation will be provided by Lincoln Park District.
Matthew Mason and Tara Shane have seen all sides of theater. These two young adults have had 35 play experiences between them, all the way from entertainment to competition, as well as from the stage to the technical crews and orchestra pits. Matt and Tara are state-ranked performers in the arts. Both have experience working with children and can ensure that participants will have a great time while learning some new techniques. This camp is for children 6 to 12 years old. Sessions will begin on Monday, June 4, from 9 a.m. to 4 p.m., and run through Friday, June 8. The camp will be in the park district's craft room.
[Text from file received from Roy Logan, Lincoln Park District]