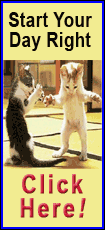 NYSE
Avon Products Inc., up 77 cents at $20.96
The cosmetics maker said it's considering a buyout offer from beauty company Coty after it sweetened the deal.
Chesapeake Energy Corp., up 71 cents at $15.52
The Wall Street Journal reported that billionaire investor Carl Icahn has bought a significant stake in the natural gas company.
Concho Resources Inc., up $2.85 at $92.02
The oil and natural gas company said it will acquire the oil and natural gas assets of privately-held Three Rivers Operating Co.

Nasdaq
Yahoo Inc., up 31 cents at $15.50
The Internet company's CEO, Scott Thompson, has left after coming under fire for the mention on his company bio of a degree he never received.
Francesca's Holdings Corp., up $1.58 at $25.61
The women's retailer fired its chief financial officer and raised its first-quarter outlook on better-than-expected sales.