Isabelle Thompson, a seventh-grader, is an April Student of the Month at Zion Lutheran School in Lincoln.

Isabelle has been an honor roll student, and her ZLS activities have included choir, volleyball, spelling bee and Bible bowl.

She is a member of Zion Lutheran Church in Lincoln.

Her church and community activities have included youth group, Vacation Bible School, Camp CILCA, youth conference, soccer, piano and organ.

Isabelle enjoys interior and clothing design.

Her parents are the Rev. Mark and Chris Thompson of Lincoln.

Cylie Rekart, an eighth-grader, is an April Student of the Month at Zion Lutheran School in Lincoln.

Cylie has been an honor roll student, and her ZLS activities have included volleyball, cheerleading, choir, band and choir chimes.

She is a member of Zion Lutheran Church in Lincoln.

Her church and community activities have included Girl Scouts and volleyball camp.

Cylie enjoys volleyball and swimming. Her career goals are to be a criminalist or veterinarian.

Her parents are Dennis and Teresa Rekart of Lincoln.
---

Mount Pulaski May Senior-of-the-Month
MOUNT PULASKI -- Grace Tierney has been named May Senior-of-the-Month at Mount Pulaski High School. Grace is the daughter of Bob and Kelley Tierney of Cornland.
Grace is a member of Drama Club and is president of Spanish Club. She has served on prom court, and has been a consistent high honor roll student. She was named as one of the "Top Ten Students" in the 2012 graduating class at Mount Pulaski High School.
Grace is a cooperative work-training student who works at Farmers Bank and at Fusion Productions Photography as an assistant photographer. She plans to attend Lincoln Land Community College.
The Senior-of-the-Month program is sponsored by Johnson's Food Center and Mount Pulaski Pharmacy.
---

Mount Pulaski junk drop-off dates
MOUNT PULASKI -- Mount Pulaski residents can drop off junk at the Mount Pulaski Township Shed, 404 S. Spring St., on June 16 and 17.
Click here for details (PDF).
---

Lincoln Woman's Club spring buffet luncheon Wednesday
The Lincoln Woman's Club will meet for a spring buffet luncheon Wednesday noon at Lincoln College.
Officers will be installed, and a memorial service for deceased members is planned.
Rose Mary Conrady and Charlotte Bennett will be greeters, with Marica Howen and Pat Benson as social co-chairwomen. Deb Schweitzer is in charge of devotions.
---

New scholarship named for Memorial employee
SPRINGFIELD -- Leonia Cole, a surgical technologist at Memorial Medical Center for more than 55 years, was recognized on May 3 for her contributions to the careers of residents, other surgical technologists and nurses with the establishment of the Leonia Cole Surgical Technologist Scholarship Fund.
The fund, which will be administered by the Memorial Medical Center Foundation, will award a grant of $2,500 to a qualified candidate pursuing an associate degree in surgical technology at Lincoln Land Community College.
Cole began her career at Memorial on Jan. 26, 1954, as a nursing assistant. After 15 years, she was promoted to surgical technologist following completion of Memorial's first on-the-job training program for surgical technology.
"Leonia's dedication and commitment to helping others learn is exemplary," said Dave Joerger, administrator for Memorial's surgery department.
To apply for the scholarship, applicants must complete an educational grant application and the Leonia Cole Surgical Technologist Scholarship application, which are available by visiting MemorialCareers.com and clicking on the link to the Educational Assistance page. The application and all supporting documentation must be turned in by June 1. For more information, call 217-757-2125 or email TalentPlanning@mhsil.com.
---

Dealing with immediate uncertainty:
When a nursing home is the right option
MOUNT PULASKI -- The Vonderlieth Foundation is hosting a workshop open to anyone interested. One of the most difficult aspects of entering a nursing home is the timing. The hospital calls to say your loved one will be released this afternoon and needs to go to a nursing home ... Where do you want them to send him?
You always promised your loved one you would never put her in a nursing home, but now you have no options. What do you do? Your loved one is suddenly not doing well at home alone, and you need to find out the options fast ... What all is involved in admitting from home? What should you look for in a nursing home? What does Medicare pay for? What about Medicaid?
Waiting until you need to make the decision is often overwhelming. Come for an hour of information, support and networking in the Vonderlieth Living Center Activity Room, 1120 N. Topper Drive, Mount Pulaski, on May 17 at 2 p.m.
There will be snacks, and a door prize will be given away.
For more information, call Jo Hilliard at 217-792-3218.
---

LCHS to present 'Beauty and the Beast'
Lincoln Community High School will present "Beauty and the Beast" on May 17, 18 and 20 at the Johnston Center on the campus of Lincoln College.
Shows will start at 7:30 p.m. on May 17 and 18, and there will be two shows on May 20, at 2 p.m. and again at 7:30 p.m.
---

Relay for Life breakfast May 20
Relay for Life has announced that this year's master of ceremonies will be Jim Xamis. A well-known local businessman, Xamis will help keep the activities known and moving during the event, from 6 p.m. June 15 until the closing ceremony at 6 a.m. June 16.
The public is invited to attend the annual Relay for Life breakfast in the Lincoln College cafeteria on May 20 from 9 a.m. to 1 p.m.
Tickets for the breakfast are $6 for each meal. Organizers ask that there be no carryouts. More ticket information can be obtained from Maritta Robinson, 217-671-2309.
All proceeds will go to Relay for Life of Logan County.
More information on Relay for Life of Logan County is posted at www.relayforlife.org/loganil.
---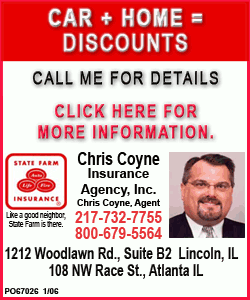 ---

Delavan to host Civil War re-enactment battle June 30-July 1

DELAVAN -- The inaugural Little Crane Creek Civil War re-enactment battle will be on June 30 and July 1 at the Lake Park in Delavan. It is one of many events in Delavan in conjunction with the city's175th birthday. The re-enactment is free and open to the public.

Re-enactors representing both the North and South will participate in a battle scheduled for 3 p.m. on Saturday and 2 p.m. on Sunday.

The weekend will also include an appearance by President Abraham Lincoln, Civil War storyteller Brett Hall and Civil War songs by Bob Welch. On Saturday evening there will be a period dance featuring the 33rd Illinois Volunteer Regiment Band.
---

Elkhart Historical Society presents …
'From Lincoln's Tomb to Arlington and Back'

ELKHART -- The Elkhart Historical Society will present a dinner lecture on May 18 at 5:30 p.m. at the Wild Hare Café in Elkhart. Virgil Davis and Chuck Fricke will talk about and explore America's rich history of military funerals and ceremonies.

Davis has obtained many original artifacts from Abraham Lincoln's funeral as well as other notable funeral items from Lincoln's time to the Tomb of the Unknown Soldier at Arlington Cemetery. Attendees will be able to view original items going back to the Lincoln funeral and the ceremonies that accompanied that sorrowful time in our country's history.

The evening is planned as an entertaining and educational opportunity to learn about the pomp and ceremonies for those "who gave the last measure of devotion" to their country.

Tickets are $25 per person. Seating is limited, so please call 217-947-2238 to confirm reservations. Reservation forms may then be downloaded from the Elkhart Historical Society website, www.elkharthistoricalsociety.org, or picked up at Horsefeathers in Elkhart.
---

Planned highway closure

The Illinois Department of Transportation has announced the following planned road closure:

Illinois Route 121 at the Canadian Northern railroad crossing southeast of Lincoln and Deer Creek will be closed to all traffic May 14-18 for replacement of the railroad crossing.

IDOT will attempt to complete a three-day closing if the situation allows but is planning for a full five days in the worst case.
---

Blood drives in Logan County need your help
To help ensure an adequate blood supply for the region, the Central Illinois Community Blood Center is offering opportunities to donate blood in May in Logan County.
Thursday, May 17:
Elkhart -- Christian Church, 113 S. Gillett; 3-6 p.m.

Atlanta -- St. Mary's Catholic Church, 805 Pearl St.; noon-6 p.m.
For your convenience, call toll-free 1-866-GIVE-BLD (1-866-448-3253), ext. 158, to sign up, or schedule an appointment online at www.bloodcenterimpact.org. Walk-ins are also welcome and truly appreciated.
Central Illinois Community Blood Center, a not-for-profit organization, is the provider of life-saving blood for 12 hospitals throughout central Illinois, including Memorial Medical Center and St. John's Hospital in Springfield. CICBC is a division of the Mississippi Valley Regional Blood Center, which collects over 180,000 units of blood annually and serves a total of 80 hospitals in Illinois, Iowa, Missouri and Wisconsin.
---

Scholarships available at Community Action
Community Action is accepting applications for $1,000 Community Services Block Grant scholarships. The CSBG scholarships, offered in cooperation with the Illinois Department of Commerce and Economic Opportunity, are designed to provide financial assistance to low-income and disadvantaged individuals of high academic attainment or potential. Scholarships will go toward providing formal education or occupational training in an accredited Illinois educational institution to CSBG-eligible clients.
To be considered, applicants must be income-eligible and reside in DeWitt, Fulton, Logan, Mason, Menard or Piatt counties, and must be enrolled or accepted at an Illinois accredited higher educational or occupational training institute.
Applications will be accepted through June 15. Interested applicants should visit their local Community Action office or contact Kathy Shepherd, community services director, at 1-877-588-7189, ext. 246, for details.
Community Action Partnership of Central Illinois is a not-for-profit organization serving low-income and senior populations in six central Illinois counties. To find out more about the services offered, visit www.capcil.org. For updates, like the agency on Facebook.
---

Harvest of Talents Princess Tea planned for June 30
Harvest of Talents for World Hunger and Lincoln Christian Church are sponsoring a Princess Tea again this year for young ladies ages 3-13. The event will be on June 30 at the Lincoln Christian Church Fellowship Hall. Doors will open at 10:45 a.m., and the tea is from 11:30 a.m. to 1 p.m.
The theme of the event will be "Secret Garden." Young ladies are invited to dress in whatever makes them feel pretty. Tea will be served on decorated tables and entertainment will be provided. There will also be time allowed for photo ops.
Tickets go on sale May 1. Seating is limited. For more details and to make reservations, contact Vera Thomas at the church office.
Young ladies are to be accompanied by a chaperone, such as their mother, grandmother, aunt or friend.
Lincoln Christian Church is located at 204 N. McLean St. in Lincoln.
All proceeds from the Princess Tea will go the 2012 Harvest of Talents for World Hunger, to feed hungry people worldwide.
---