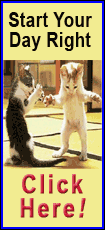 1. U.S. ADOPTS STRATEGY FOR FIGHTING ALZHEIMER'S
The Obama administration today sets a 2025 deadline to find effective treatments and perhaps even a way to prevent the mind-destroying disease that afflicts 5.4 million Americans.
2. POLL FINDS HALF OF AMERICANS THINK FACEBOOK IS A PASSING FAD
The AP-CNBC poll also finds half the country believes the social networking company's initial public stock offering is overvalued.
3. JPMORGAN CEO FACES SHAREHOLDERS AFTER $2 BILLION TRADING LOSS
While Jamie Dimon could face tough questions at the bank's annual meeting in Tampa at 10:30 a.m., shareholders say they are unlikely to call for him to resign.

4. EDWARDS' DAUGHTER TO TESTIFY IN FATHER'S CORRUPTION TRIAL
At 9 a.m., Cate Edwards takes the stand. The 30-year-old lawyer has sat by her father nearly every day in court and ran out in tears earlier this month during testimony about his affair with Rielle Hunter.
5. FRANCOIS HOLLANDE SWORN IN AS FRANCE'S NEW PRESIDENT
The country's first Socialist leader in nearly two decades plans to meet later today with German Chancellor Angela Markel to talk about austerity and growth in Europe.
6. CLEMENS FACES HIS CHIEF ACCUSER AGAIN
Former trainer Brian McNamee returns to the stand at 9:15 after testifying he injected the pitching great with steroids eight to 10 times when they were with the Toronto Blue Jays in 1998.