Illinois American announces water main installation projects in Lincoln
Investment of approximately $170,000 will enhance water service
Send a link to a friend
[May 15, 2012] Celebrating National Drinking Water Week last week, Illinois American Water announced plans to invest approximately $170,000 for water main installations across its Lincoln District. Work also includes transferring customer services to the new water main and installing two fire hydrants. With the announcement, the company hopes to raise awareness of the critical infrastructure of water mains required to deliver water service and fire protection.
Work will begin next month to replace approximately 325 feet of 2-inch water main with 8-inch water main on Burlington Street, from North Ottawa Street to North Kankakee Street. An additional 675 feet of 6-inch water main will be replaced with 8-inch water main on Adams Street, from Woodlawn Road to 15th Street. This work will enhance and maintain water quality and pressure as well as fire protection to customers.

Illinois American Water's main replacement program focuses on replacing water mains where leaks occur, corrosion has caused damage or the size of the pipe isn't sufficient. According to David Schonauer, operations superintendent for the Lincoln District, the replacements are necessary due to the age of the pipes, coupled with corrosion and sediment accumulation over the years.

"Many of our water mains were installed well over 50 years ago. Upgrading our water mains is essential to ensuring quality water service," Schonauer said. "Illinois American Water continues to invest annually in its systems to ensure that local water quality and service continues to be as good as or better than local, state and federal quality standards."
The U.S. Environmental Protection Agency reports that the nation's water utilities will need to make more than $335 billion in infrastructure investments over the next 20 years to ensure public health. These investments include replacement of thousands of miles of pipe and upgrades to treatment plants, storage tanks and other assets. Illinois American Water's investment in main replacement in the Lincoln District is just another example of continuous investments and improvements being made, helping to meet the demands of today's customers and planning for the future.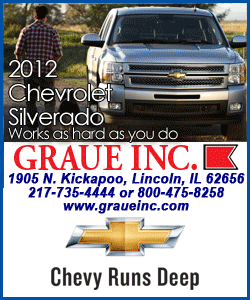 Illinois American Water, a wholly owned subsidiary of American Water (NYSE: AWK), is the largest investor-owned water utility in the state, providing high-quality and reliable water or wastewater services to more than 1.2 million people. American Water also operates a customer service center in Alton and a quality control and research laboratory in Belleville.
[Text from file received from Illinois American Water]