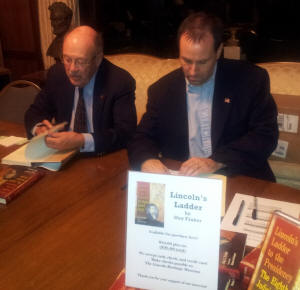 Author Guy Fraker introduces new book, 'Lincoln's Ladder to the Presidency,' at LC's Heritage Museum
Report by Phil Bertoni

Send a link to a friend
[October 26, 2012] Attorney Guy Fraker of Bloomington has just released a long-awaited treatise on Abraham Lincoln's legal and political work in central Illinois, entitled "Lincoln's Ladder to the Presidency -- The Eighth Judicial Circuit" (SIU Press, 2012). It was certainly fitting that Fraker chose our 16th president's namesake college -- Lincoln College, established in early 1865 -- to launch his thoroughly researched hardback. Many friends, acquaintances and Abraham Lincoln enthusiasts were on hand for Fraker's talk and book signing Wednesday at the Lincoln Heritage Museum, with museum curator Ron Keller moderating.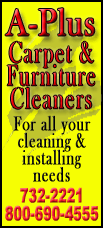 Finally, after all these years -- 152 to be exact -- since Lincoln's election to the U.S. presidency, a book has been written that concentrates almost solely on his legal and political years in the mid-1840s to the election in 1860. At long last, residents of Illinois, particularly of central Illinois, can proudly read the never-before-told story under one cover of how Lincoln developed his ideas and character while working and making lasting relationships among the people who knew him best -- among the ancestors and ancestral friends of present-day Illinoisans.

Fraker takes Paul Beaver's recent book "Abraham Lincoln in Logan County, Illinois 1834–1860" to the next level by revealing Lincoln's work not only in Logan County, but also throughout the Illinois 8th Judicial Circuit.

As Fraker carefully documents, Lincoln amassed and formed his societal, economic, moral and political views while spending 26 years serving Illinois as a maturing lawyer and then as a maturing politician -- roles later frequently intertwined -- as he made his way "up the ladder" to the presidency of the United States.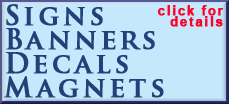 While young Lincoln learned to detest the institution of slavery, Fraker discovered that he learned to balance his feelings and thoughts with the requirements of the law in his work as a lawyer, politician and finally as president.
Indeed, as Fraker continues to explain, Lincoln grew to know his fellow men, women, the law and politics through his years of traveling by foot, horseback, horse and buggy, and then by train to and fro throughout the Illinois landscape as he grew in stature as a lawyer and political figure.
As we all have known for a long while, Abraham Lincoln is highly acclaimed locally, nationally and throughout the world as one of the greatest personalities of all time -- and now we know more about the why.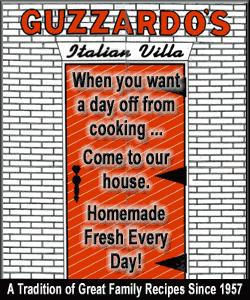 Fraker makes his case that central Illinois was the hotbed of legal and political work in the state in the mid-1800s, pointing out that the population was more concentrated in central Illinois as contrasted to sparsely populated Cook County. It was in central Illinois and in the counties of the Illinois 8th Judicial Circuit, as Fraker documents, that many very intelligent lawyers and politicians -- Lincoln among them -- went to work.
Amazingly, as Fraker reminds us, crowds of 5,000-7,000 or more would attend the speeches of Stephen A. Douglas and Abraham Lincoln to hear their views and later excitedly discuss them as they returned to their farms and towns -- for there was usually "no better entertainment."
Franker's book is given a large boost with an eloquent forward written by nationally acclaimed author and professor Michael Burlingame of the University of Illinois at Springfield. In Burlingame's words: "For bringing the 8th Judicial Circuit vividly to life and for explaining how and why it shaped Lincoln significantly, Fraker deserves the gratitude of all who seek to understand the life and times of America's greatest statesman."
[Text from file received from Phil Bertoni]