St. Louis opened the scoring in the opening 2 minutes on a free kick goal from 25 feet out. But Lincoln would respond in the next few minutes when Adrien Sathler (Miami, Fla.) hit a shot that beat the keeper but hit the post, and Eddie Ramirez (Miami, Fla.) was there to touch it in to tie it up 1-1.

Sathler would follow that up with a goal of his own a few minutes later when a deflected shot fell to his feet and he finished it off to take a 2-1 lead.

Just before the half ended, Lincoln got another goal when Julio Velasquez (Albuquerque, N.M.) slotted a ball to Diego Rodriguez (San Pedro Sula, Honduras), who curled the ball around the goalie from 18 feet out.

The second half was mostly Lincoln, with LC getting 10 shots on goal, but the Lynx were able to only score once more, when Sathler broke through and played an easy pass to Alioune Mbaye (Chicago), who scored the final goal. The game ended with Lincoln on top 4-2.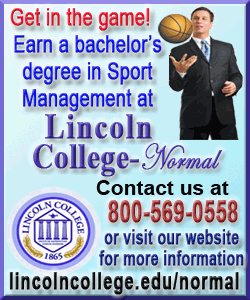 "Despite having six players out for today's game," Lincoln College head coach Ben Massena said, "we played well and kept to our style of play and moved the ball around the field. I was very happy with how the guys bounced back after giving up such an early goal."
The Lynx will take on Iowa Wesleyan on Saturday at the Kick for the Cure Tournament in Champaign.
___
Online: Lincoln College men's soccer
[Text from file received from Jeff Nelson, Lincoln College sports information director]