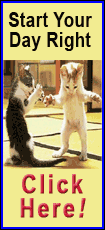 While there is still much to do, the primary structures are now in place, and in recognition of Earth Day, the center had what visionary and founder Dr. Dennis Campbell called a soft opening. The event on Saturday was to thank all those who have helped or contributed in some way.

Particularly appreciated was donation of land to access the site, which was given by the Shirley Edwards family. Also appreciated were surrounding landowners, the Chris and Alvin Klockenga families; Lincoln College trustees and past LC presidents starting with Ron Shilling to current President John Blackburn; and Rotarians, family, friends, students, LC staff and businesses too many to name, who have been volunteering or made donations.

Blackburn thanked those present, saying there have been a lot of contributors and other people involved. "Colleges cannot have something unique like this without participation from a community and supporters like all of you," he said.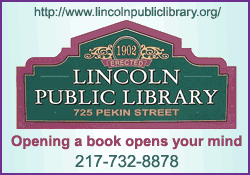 Creekside is set on 5 acres just north of Lincoln, on the banks of Sugar Creek. Its primary structures -- a teaching pavilion, greenhouse and insectarium -- are sandwiched between an established restored prairie and Sugar Creek, which will each provide countless study and research opportunities.
The lifelong dream of Dr. Dennis Campbell, division chair of science at Lincoln College; Creekside will offer teaching and learning, and research opportunities to students at all levels of education, and provide a place for the community to enjoy nature.
Insectarium
Community involvement of the strongest kind came from the Lincoln and Atlanta Rotary clubs. The groups joined forces to focus on the insectarium. Rotary donated $8,946 and helped construct the exhibit.
Rotarian Kirby Rogers said that when Rotary heard Campbell's enthusiasm, "we didn't just get on board, we jumped on board." As a former educator, Rogers said he could see the benefits to the local education system. "I can envision something like all third-graders coming out here in the spring -- seeing, listening and learning," he said.
The insectarium will feature native insects and plants, and it is hoped to aid a couple of endangered insects.
The Rotarians have committed to continue to come out to work when they can.
During the workday on April 6, the clubs were out in full force working various locations and even began making the 10-foot sections of boardwalk that will eventually allow wheelchair access to the creekside. Members sawed, painted, pounded together the first 100-foot boardwalk segment, and Campbell encouragingly said: "There's only 2,900 feet more to go."
During the opening on Saturday, Blackburn announced that the trustees had ordered a sign to be created, reading: "In honor of Dr. Dennis Campbell, visionary and founder Creekside Environmental Center dedicated April 20, 2013." He presented a mock sign to Campbell.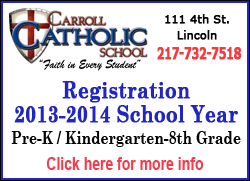 Creekside Environmental Center
This was a full-circle moment for Campbell. He recalled that his first public talk was 43 years ago on April 22, 1970, while he was at Texas Tech. The university was one of the first to sign up to promote environmental awareness by a means called Earth Day. Campbell has a letter from Denis Hayes, who was then at Stanford and coordinated the first Earth Day. Hayes went on to become a significant leader in the environmental movement.
With glad pronouncement, Campbell promised that now that Lincoln College has this environmental center, this would be the first of many Earth Day celebrations sponsored by the college. He went on to talk about a few of the features at the site, first telling how the name of the entry lane was selected.
In honor of Shirley Edwards, her maiden name of Small has been hyphenated with her married name, to read Small-Edwards. The center's location is just about 5 miles east of the famous Indian trail known as Edwards Trace, which runs from Kaskaskia to Peoria. So the resulting lane will be called the Small-Edwards Trace.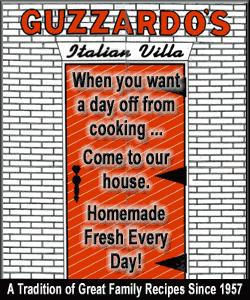 Greenhouse
The so-called greenhouse is really a high-tunnel, cold-frame house; which, if it remains unheated, would be a three-season house. Past LC President Jon Astroth and Charlie Hayes put in its masonry walls.
Insectarium
A biology teacher at Pana, David Nance, shared his design for a tallgrass butterfly house. It is a Quonset hut frame that will be covered with a white insect screen that can be rolled up along the sides. When this is planted with wildflowers and native grass, those plants will serve as food for butterflies.
Campbell thanked Kirby Rogers and other local Rotarians who jumped in on that interest.
Campbell said that all sorts of insects and spiders would be encouraged into the insectarium, not just butterflies. "I'm a biologist. I want to see action," he said. "I want to see a food chain interaction of all the species."
And, he has received word that the state would like an endangered skipper butterfly and the prairie walking stick to be introduced there. "They want to see if we can raise them from egg to adult and make them available for restoration purposes," Campbell said.
It's kind of neat that we might be part of a big-time conservation effort, Campbell said, "but that's not what was on my mind. What was on my mind was a community service!"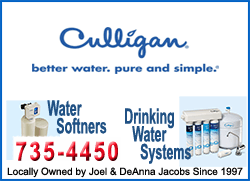 Sugar Creek
Since coming to Lincoln College and gaining permission to access the creek, Campbell has been taking students to the creek for a wide variety of studies and research, including widely published research on mussels. Along the way numerous discoveries have been made in the creek area, such as the world's largest wooly mammoth; and other prehistoric large mammal bones, Indian and pioneer relics have been found along the creek.
The University of Arizona has a specialty team that studies logs of the time period of the mammoth and will coming here to do a study.
"When you say Sugar Creek, say it with pride," said Campbell, adding with humor related to recent heavy rains, "even though it's marching up to your doorstep."
Future
Everything at the center has been designed to be handicapped-accessible.
There are ponds, bridges and plantings still to be completed by volunteers. Campbell said he'd like to see areas named for volunteers such as Bill Gossett and the Tracy and Lewis Bergin family, who were involved in the restored prairie and other processes.
Ideas are welcome, and the opportunities to get involved will abound for years. "It is no longer Lincoln College or Campbell's vision," he said. "It is your vision."
Flags and markers are available to commit an area of choice for development. To get involved, you can contact Campbell through Lincoln College.
[LDN]
Past related articles