The guest of honor was quite large, big as a bus. OK, actually it was a bus. It was the HOPE Mobile.

The name stands for "healthcare, oral health, prevention and education."

Dolan Dalpoas, president and CEO of Abraham Lincoln Memorial Hospital, welcomed all those who packed the reception room. It was a diverse group, and as he looked around he identified health care professionals, vehicle maintenance and mechanical workers, housekeepers, administrators, volunteer coordinators, and others. They were all people who made contact with one another in one way or another through the mobile health service.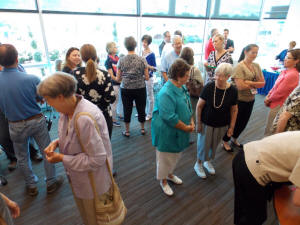 It was a bittersweet moment for those who had worked together with the unit for many years. Many lives crossed paths in the bus operations, and some had forged strong relationships, including with those they served in the outlying communities.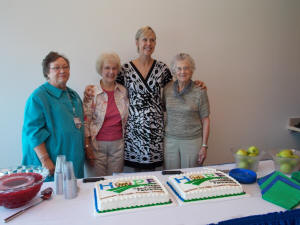 Many of those who worked on the mobile health bus, dubbed the HOPE Mobile, were on hand Thursday to recognize its retirement. During its time of service, many forged deep friendships with colleagues and those they served. Pictured are Charlotte Bennett, Sandy Hollenbeck, Ruth Freeman and Joan Behle.
Dalpoas said the use of the bus began because there were people who wanted to do good work. Health care needs were identified for which there would be benefits in going into the rural parts of the county, and a grant of $400,000 got things started.
A later health needs assessment identified that youth weren't getting dental care. Dalpoas said that in 2006, "we retooled and the Healthcare, Oral Prevention Education Mobile began."
"So, while it's done a lot of really great work, it's really the people that made it what it was."
Then, looking around the room, he recognized some of those who kept the bus on the road, from the vehicle maintenance crew to nurse practitioners to dental hygienists and volunteer support staff.
Special guest Kristi Lessen was present and offered a few words. Lessen is the former executive director of the Healthy Communities Partnership, having left just a year ago.
Lessen oversaw the bus transition in 2006 from the "Corn Bus," offering general health care services, to the HOPE Mobile with dental services.
Last year, Lessen left the Healthy Communities Partnership to take a position as outreach coordinator with Simmons Cancer Institute at Southern Illinois School of Medicine in Springfield.
Lessen says she loves her current job, and as she spoke about her time here with the bus and the rural partnership, it was with fondness that she credited a number of the people and her experiences here for preparing her for the position she has now.
Angela Stoltzenburg currently serves as the executive director of the Healthy Communities Partnership.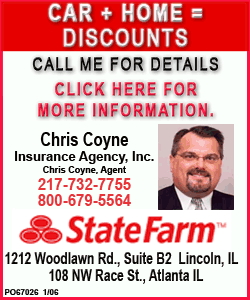 A little history on the bus
The mobile unit got its start under a subcommittee of the Lincoln/Logan County Chamber of Commerce. Responsibility for the operation shifted to the Healthy Communities Partnership when it organized in 1998. Over time it has been supported primarily by grants from the Illinois Department of Public Health, SIU School of Medicine, Abraham Lincoln Healthcare Foundation, Logan County Board, Eaton Corp. and others, along with generous donations from our community.
When the mobile service began, it had been identified that basic health care services, such as wound care and blood pressure checks for people who otherwise might not see a doctor, especially seniors who might not drive, could prevent more serious health problems.
Later, an assessment conducted by the Logan County Department of Public Health identified dental care as the top need in the population. It was determined to begin by offering basic oral health screenings and procedures for youth by way of the mobile unit.
Mark Hilliard, health department administrator, also set to work on a plan to open a dental clinic in the health department. Through diligent effort and repeated applications for grant funds, that dream came true just over two years ago.
Today, the dental clinic with three operatories, its own dentist and hygienist is meeting the dental needs of Logan County's previously underserved population.
A new public transportation program was initiated a year ago, which expanded transportation opportunities for seniors.
Various administrators agreed, while measuring the high costs of the bus operation and the limited number of patients who could be seen in a set time against the new opportunities, that it was now time to retire the bus.
The mobile health unit served the population well, meeting important health issues during its 15 years on the back roads of Logan County.
It was with good memories and the satisfaction of a job well done that past affiliates said "goodbye" to the HOPE Mobile.
[LDN]
Past related articles