In observance of Caregivers Awareness Month, state reminds families about resources to assist them
Department on Aging administers the Family Caregiver Support Program
SPRINGFIELD — Increasing numbers in the aging population have led to an increased need for caregivers. The term "caregiver" refers to anyone who provides assistance to someone else who needs it. Though a caregiver can be anyone, it is often a family member who steps in to provide extra support and attention for an elderly loved one. (Click here for the rest of the story.)
---
Financially surviving the golden years
Expert offers tips to maximize money for an aging population
Americans are living longer these days, from an average 47 years in 1900 to more than 78 years as of 2010. We are also experiencing a deluge of adults reaching retirement age now, with 10,000 baby boomers turning 65 every day. (Click here for the rest of the story.)
---
'Gravity' and the long-term care crisis
By Chris Orestis
I recently went to see the movie "Gravity," starring Sandra Bullock and George Clooney. It is a fast-paced, exciting thrill-ride from start to finish. After we left the movie and I replayed the life-threatening events that unfolded on the screen, I could not help but begin drawing comparisons to the long-term care funding crisis currently unfolding in America today. (Click here for the rest of the story.)
---
Social Security announces 1.5 pct benefit increase for 2014
BALTIMORE -- Monthly Social Security and Supplemental Security Income benefits for nearly 63 million Americans will increase 1.5 percent in 2014, the Social Security Administration announced last week. (Click here for the rest of the story.)
---
---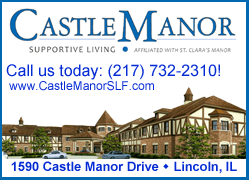 ---
Your will: the overlooked bucket-list item
Financial expert explains the vital importance of this document
Of the trendy terms to come around in the past decade, "bucket list" remains among the most useful, says retirement planning expert Jeff Gorton. (Click here for the rest of the story.)
---
Stroke -- the leading cause of disability in Illinois and the U.S.
World Stroke Day, Oct. 29: Learn how to reduce your risk
SPRINGFIELD -- Stroke is the fourth-leading cause of death in Illinois and the leading cause of disability. This year's theme for World Stroke Day, Oct. 29, is "Because I Care," which emphasizes that stroke is preventable and the benefits of prevention extend to all those who care. (Click here for the rest of the story.)
---
Medicare annual open enrollment period underway
Department on Aging offers free counseling on Medicare plans
SHIP helps with insurance options
Call 800-548-9034 or visit http://www.state.il.us/aging/SHIP/
SPRINGFIELD -- Illinois Department on Aging Director John K. Holton, Ph.D., announced Tuesday that free counseling assistance is available to help educate Medicare-eligible individuals and their caregivers regarding their Medicare insurance options. Medicare open enrollment started Oct. 15 and runs through Dec. 7. The department's Senior Health Insurance Program, known as SHIP, provides free counseling for Medicare beneficiaries and their caregivers.
(Click here for the rest of the story.)
---