Blessing of 18th Logan County Habitat home Sunday

Send a link to a friend
[December 19, 2013] Habitat for Humanity of Logan County will celebrate its 18th home blessing on Sunday, Dec. 22, at 2:30 p.m. The house at 705 N. Madison St. will become a home for Amber Senters and her children: Anthony, Hayden and Clara.
The site for the home was donated to Habitat for Humanity by the Joe Pelc family.

The public is invited to celebrate with the family, take a tour of the home after the program and enjoy refreshments.

Habitat for Humanity's goal is to provide decent and affordable housing to those unable to secure it through more traditional means. Eligibility is based upon need, income and a willingness to partner with the organization.

Families and individuals chosen for Habitat for Humanity homes do not receive a handout but a hand up. Habitat homes are financed with affordable, no-interest loans. Mortgage payments are made locally to Habitat for Humanity of Logan County, which in turn uses the funds to build or rehabilitate other homes within the county. Families must have the financial ability to make monthly mortgage payments. In addition to a monetary down payment, families must provide 350 hours and individuals must provide 250 hours of "sweat equity" into the completion of their home and homes of others.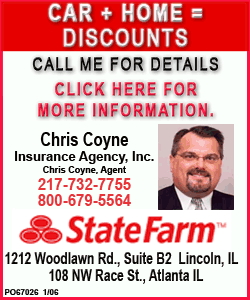 Habitat for Humanity builds homes, lives and a sense of community.
For more information on Habitat for Humanity of Logan County, call 217-732-6412 or visit www.habitatlogan.org.