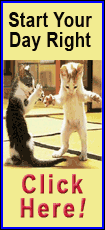 Each year, the two aldermen from each ward put their heads together and discuss who in their ward has gone above and beyond to contribute to their community and make Lincoln as a whole a better place to live through their various efforts.

At the last meeting of the year, the aldermen speak briefly about their choices and then honor each of those four people with a wall plaque naming them a Lincoln Citizen of the Year. Mayor Snyder also selects a citizen, and that person becomes the fifth honoree of the night.

Ward 1

This week, the process began with the Ward 1 selection. The aldermen for Ward 1 are Melody Anderson and Bruce Carmitchel.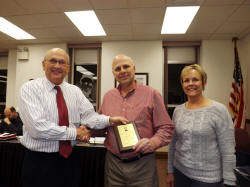 Anderson began: "Ward 1 has nominated for their Citizen of the Year this year Steve Allen, who is not only a resident of Ward 1 but also works in Ward 1. He is the housing director for the Logan County Housing Authority.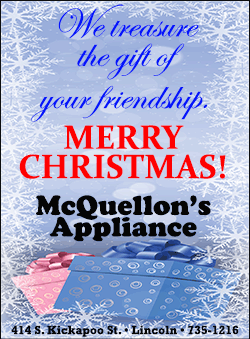 "From reports that I get from individuals that live there, he does a great job, not only maintaining the facility but taking care of the residents as well.
"In addition to that," Anderson said, "Steve has been an active participant since the inception of the community gardens on College Street. Again, some of those that are on the front line with him say he takes great pride in the garden and is very active and has continued that activity every summer since they have brought it to fruition.
"We would like to recognize Steve as our Citizen of the Year," Anderson concluded.
Ward 2
In Ward 2, the aldermen are Kathy Horn and David Wilmert. Wilmert introduced the Ward 2 Citizen of the Year: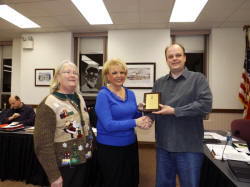 "This year Ward 2 recognizes someone who has worked behind the scenes for many years. (She is) someone who makes a difference outside the spotlight. She is the person who quietly donates of her own time and resources through church to provide meals and care packages for the needy. She is someone who has served over 36 years in the Zonta Club in just about every volunteer capacity there is.
"She is the name and face behind countless work efforts to improve and beautify just about every project she comes in contact with. If there is a tree that needs decorating to raise funds at Festival of Trees time, you can bet that she is there to do several. And hers have been known to raise over $2,700 just for one tree."
"This magic touch has been known to make people feel better as well. Just ask the people who benefited from her efforts as part of the Look Good Feel Better program for patients battling cancer."
Wilmert concluded, "Tonight we thank and honor Linda Franz."
Ward 3
In Ward 3, the aldermen are Tom O'Donohue and Jonie Tibbs. This year their choice of Citizen of the Year was an entire family.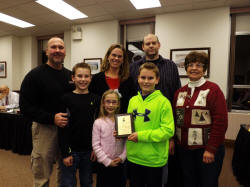 O'Donohue did the honors: "Ward 3 is such a great ward that we are not just honoring a single person, we are honoring a whole family this year. The family we are honoring is the Mourning family: Todd and Linda Mourning along with their children, Tate, Levi and Hattie. They exemplify the type of community involvement that we appreciate from families living in Lincoln.

"Like most families, the Mournings have many obligations: jobs, school, church, sporting events and family life. Yet, they still find time to give back to the community.
"You can find them volunteering as a family, helping to plant tulips for the Plant the Town Red project, or helping to beautify the downtown by painting lamp posts, or pitching in to help maintain an historic structure by sharing the job of putting on a coat of paint.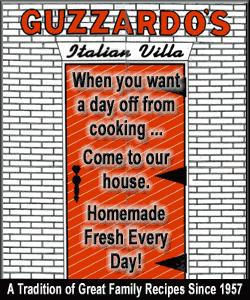 "Todd and Linda are impressing upon their children the importance of playing an active role and making a positive difference in their community. The Mournings have been active participants at Central School and the PTO, along with their church, and have been co-coordinators of the souvenir tent at the Art & Balloon Festival."
O'Donohue finished by saying: "It is with honor that Alderman Tibbs and I award the Mourning family the Citizen of the Year for Ward 3."
Ward 4
In Ward 4, the aldermen are Jeff Hoinacki and Marty Neitzel. This year they chose to honor a longtime friend of the Neitzel family, Robert "Bob" Huelskoetter.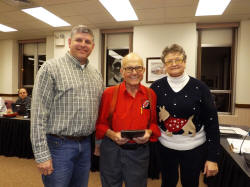 Neitzel offered the introduction. "I'm discussing this evening Robert Huelskoetter," she said.
"Robert Huelskoetter, the first time I met you was when my husband and I eloped. From that time we became very good friends."
"Bob is very active at the Zion Lutheran Church, as well the Lutheran Layman's group.
"The second encounter with Bob was when he and his first wife, Afreda, were with Amway and had a distributorship. We were with them in the Amway distributorship and bought his products. He was also a Bose distributor.
"The third encounter with Bob was when my husband and I bought our business on Kickapoo Street. Bob came to us and wanted to know if he could give us an inventory of the items that we would need every week. He would come and check our inventory and take care of us in that capacity," she said.
"Bob was with us every week for 25 years until my husband and I sold our business, and from that time onward until now, which was another additional 15 years, he has been a small businessman in the city of Lincoln and surrounding area. He has taken care of the automotive needs of the city of Lincoln, of the repair shops in Lincoln."
Neitzel concluded: "Jeff and I are very proud to present the Citizen of the Year for Ward 4 to Bob Huelskoetter."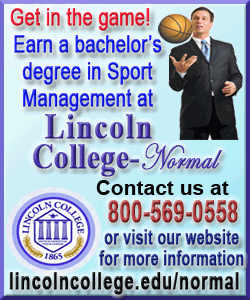 Mayor's choice
The last presentation of the night came from Mayor Snyder, who named as his choice of Citizen of the Year Lincoln Daily News' own Nila Smith.
Snyder opened his introduction by saying: "The mayor actually has an award to make tonight.
"It is going to someone who is very involved in our community. It's rare that you would ever go anywhere and not see this person at the event, whatever it might be; there supporting things going on, being positive, being an encourager, always there to lend her support.
"She is a promoter of our community in many ways. I think you could even consider her an ambassador for our community. And, we have the fortunate honor of having her at all of our meetings. She covers our meetings the same way she does our community, and that is completely, accurately and positively."
Snyder continued: "Her husband has the greenest of thumbs, and if you have not seen their yard, it is indeed a showplace in the city of Lincoln. So I am honored to present my Citizen of the Year award to Nila Smith."
After the last plaque presentation, Snyder then wrapped up this part of the evening by saying: "We are delighted to be able to honor all the people that we honored tonight. It is only a small piece of all the great people we have in Lincoln. I appreciate your efforts to bring those people forward because you all could do it a hundreds times over in your ward."
[LDN]