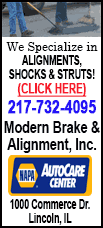 Every year LDN chronicles the events and happenings in Logan County, and when we look back through the stories we have produced, we realize that once again it has indeed been a busy year.
So, it is with this sage advice that LDN is offering our readers an opportunity to look back at what happened in 2013 as 2014 is quickly coming upon us.
From the viewpoint of progress and achievement, 2013 was absolutely one of the best, busiest years ever for Logan County residents.
From a perspective of gratitude, LDN credits the citizenship for living full-out with passion and compassion.
In our look back, we'll skim just a few of the many events and happenings that LDN reported that are now part of our history.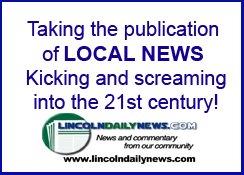 Our local governments, fire and protection services, law enforcement from the streets to the courts outperformed themselves, bringing forth justice through crime prevention, investigation, criminal apprehension and a successful conclusion to a significant court trial in 2013.
School administrators, boards, teachers and students put forth their best and impressed us when it counted most. The schools have received a needed funding shot in the arm with support from a voter-approved tax.
As always, our boys' and girls' sports teams throughout the county did us proud.
Local organizations and agencies went above and beyond in coordinating spotlight events and attractions, from Elkhart receiving a Midwest Living magazine spread on spring attractions on the hill to the phenomenal Lincoln Art & Balloon Festival that annually brings visitors from far and wide.
Individuals, charities and groups knocked it out of the ballpark with fundraisers from breakfasts to auctions, raising funds all year for many purposes, from helping save pets, to paying medical bills and providing support for families with a member battling serious illness or with injuries, to contributing to research into killer diseases, and much more.
Many residents worked all year using talents to make salable products to aid local or global hunger and disaster relief efforts, or to build walks and structures at a new center that teaches about protecting the environment, or ramps for disabled.
Acts of kindness could be found everywhere in many forms, whether shelter in cooling centers from extreme weather heat, rescue or shelter from a winter storm, to crafting patriotic Quilts of Valor for veterans.
Logan County residents can proudly claim "paying it forward" as a local mantra.
We hope that you, too, will see that much was accomplished in 2013 and feel a sense of pride and appreciation for your leaders, for your neighbors and for yourself as you contributed, whether you bought a chicken dinner to fund fireworks, just smiled at a visitor following the historic Route 66 or Looking for Lincoln trail, or by dropping a little change in the kettle to help local families.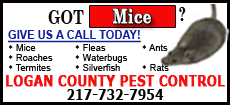 Mount Pulaski Courthouse
In our look back today, we begin by remembering some big things that happened in Mount Pulaski. There were many activities and individuals that accomplished much in this community this past year, but for this moment, we'll just spotlight the Mount Pulaski Courthouse.
The courthouse is a big part of Logan County's history. What happens to it now makes a difference in Logan County's future.
The first county seat and courthouse in Logan County was in Postville, which is now a part of Lincoln. The county seat moved to Mount Pulaski and a new courthouse was built there in 1848.
Abraham Lincoln practiced law in both those courthouses and in the next courthouse, which was built in Lincoln when the county seat moved once again in 1855.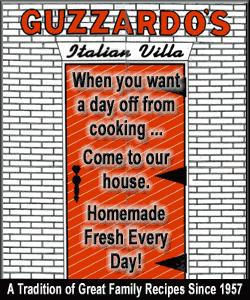 What the people of Mount Pulaski did this past year to secure the future of the only remaining original courthouse structure was nothing short of amazing. There were huge surprises at every turn between March and December.
The residents of Mount Pulaski demonstrated how hard they are willing to work to preserve this historic treasure.
In Mount Pulaski, they are raising their kids right. Who will forget those amazing third-graders who inspired the community with their belief, "Kids can make a difference!" The children boldly paved the way. The kids recognized the courthouse as a heritage that must be preserved.
Beginning in March, the children launched an attention-getting, highly successful, nationwide campaign, "Save the Courthouse," inspiring the whole community to get on board and tackle what began as a seemingly insurmountable task.
Mount Pulaski 3rd-graders' stunning 'Courthouse Cash' raises praises
The Mount Pulaski Courthouse responsibilities were taken over from the state in 2012 in order to preserve this essential part of Logan County history. Mount Pulaski citizens, under the auspices of the Mount Pulaski Courthouse Foundation, began raising funds to restore the rapidly deteriorating structure for its preservation for future generations.
The Mount Pulaski Courthouse is on both the state and national Looking for Lincoln tourism trails.
This year the foundation attained a federal grant as part of the Abraham Lincoln National Heritage Area that would help with inside humidity control and to support volunteer work on the structure, which was then celebrated with a street fest on June 28.
3 Logan County groups receive Looking for Lincoln Heritage Coalition grants
Mount Pulaski sees a near-perfect night for a street fair
Article written by Phil Bertoni tells the story of a rainbow-graced evening.
The street fair included a 5K fundraiser for Michael Stauffer, who is beating cancer.
Photos and captions by LDN Cady Lowery.
In October, the work completed in the courthouse was being celebrated and enjoyed.
Mount Pulaski Courthouse gives back to the community through a Halloween party
The year was capped by the Christmas Festival of Trees fundraiser.
Saving the best for last, there was reason for more big celebration during the festival when it was announced that Waldo and Rosalie Bertoni secured the courthouse future for some years by leaving $250,000 to the courthouse foundation.
[LDN]