Send a link to a friend
February 2013
---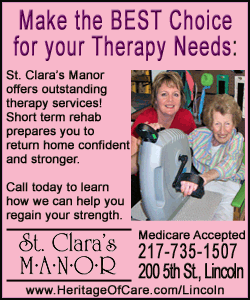 Saturday, Feb. 2
Birthday celebration for Abe Lincoln
WHO: Public
DETAILS: (See publicity.)
WHERE: Postville Courthouse, 914 Fifth St.
WHEN: 10 am-4 pm
Cosmic bowl
SPONSOR: New Holland-Middletown Community Supports Education Committee -- technology project
WHO: Public
DETAILS: Only 80 tickets available. Fee includes two hours of bowling and shoe rental. Silent auction and 50-50. Check out NH-M Community Supports Education on Facebook.
WHERE: Logan Lanes, Lincoln
Monday, Feb. 4
Habitat night at Culver's
SPONSOR: Habitat for Humanity of Logan County
WHO: Public
DETAILS: Habitat receives 10 percent of the food sales at Culver's from 5 to 8 pm.
WHERE: Culver's, 2530 Woodlawn Road
WHEN: 5-8 pm
Friday, Feb. 8
Behind the Scenes program with Casey Childs
SPONSOR: Atlanta Public Library program sponsored by Atlanta National Bank and the city of Atlanta
WHO: Public. Ticket admission.
DETAILS: (See article.)
WHERE: North Greens Golf Course Community Room, Atlanta
WHEN: Reception at 6:30 pm; presentation at 7 pm
Saturday, Feb. 9
Mardi Gras party
SPONSORS: State Bank of Lincoln, Gehlbach Law Office, Springfield Clinic, Peasley Funeral Home, Sheley Trucking, Joe Ryan Country Financial, Pro Tap, Circuit Clerk Mary Kelley and County Treasurer Vicki Dugan
WHO: Public
DETAILS: Authentic New Orleans-style food. Music by Patti Deener Band. Tickets per couple or individual.
WHERE: Knights of Columbus, 217 Limit
WHEN: 6-10 pm. Social hour at 6 pm. Dinner served at 7 pm.
Monday, Feb. 18
Logan County Genealogical & Historical Society meeting
SPONSOR: Logan County Genealogical & Historical Society
DETAILS: Black History Month program involving historic Allen Chapel
(See article.)
WHERE: 114 N. Chicago St.
WHEN: 6:30 pm
Tuesday, Feb. 26
Primary election
WHO: Registered voters
WHERE: Logan County polling places
WHEN: 6 am-7 pm