It's never too late to start birding
Send a link to a friend
[May 13, 2013] DECATUR -- An Adult Beginning Birders (18 and over) program will be offered by the Illinois Raptor Center on Sunday, May 19, from 2 to 4 p.m. (Click here for the rest of the story.)
---
Social Security announces new mobile site for smartphone users
Agency leverages technology to meet customer service expectations
BALTIMORE -- Carolyn W. Colvin, acting commissioner of Social Security, announced this week that the agency is offering a new mobile-optimized website, specifically aimed at smartphone users across the country. (Click here for the rest of the story.)
---
Senior designations for financial advisers
Reducing consumer confusion and risks
WASHINGTON -- The Consumer Financial Protection Bureau posted a report with recommendations on financial advisers for seniors. (Click here for the rest of the story.)
---
Gov. Quinn proclaims Senior Corps Week in Illinois
Serve Illinois Commission commends volunteers and promotes service to bring generations together
SPRINGFIELD -- Gov. Pat Quinn proclaimed May 6-10 as Senior Corps Week in Illinois. Senior Corps connects volunteers 55 and older with people and organizations to serve as mentors, coaches or companions to those in need. (Click here for the rest of the story.)
---
St. Clara's names its 2012 Volunteer of the Year at volunteer luncheon
Album from St. Clara's luncheon
Friday, the volunteers of St. Clara's Manor were honored at a special luncheon in the chapel. The event was hosted by activity director Penny Tipton, assistant Linda Bree and social services director Marie Parr.
(Click here for the rest of the story.)
---
---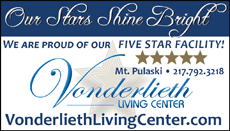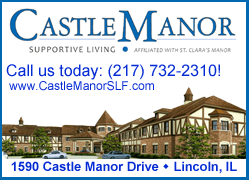 ---
SOCIAL SECURITY COLUMN
Retire on your own terms
By Judith Bartels, Social Security district manager in Springfield
SPRINGFIELD -- Most Americans are aware that they need to save for retirement. It is a topic that is easy to brush aside to a later date because, although the subject is important, it may not seem urgent.
(Click here for the rest of the story.)
---
State's Senior Health Insurance Program moves to Department on Aging
SPRINGFIELD -- Illinois Department on Aging Director John K. Holton, Ph.D., announced this week that the Senior Health Insurance Program is now administered by his department. The program known at SHIP is a free statewide health insurance counseling service for Medicare beneficiaries and their caregivers. SHIP was previously under the Department of Insurance, but the governor signed Executive Order 13-1, which transfers SHIP to the Department on Aging, effective April 1.
(Click here for the rest of the story.)
---
Bill requiring review of suspicious deaths of vulnerable adults passes out of committee
Measure would require review of suspicious at-home deaths of elderly, disabled adults
SPRINGFIELD -- Attorney General Lisa Madigan announced Wednesday that the House Human Services Committee voted out a bill to establish vulnerable adult fatality review teams to investigate suspicious at-home deaths of elderly or disabled Illinois residents.
(Click here for the rest of the story.)
---