Send a link to a friend
May 2013
---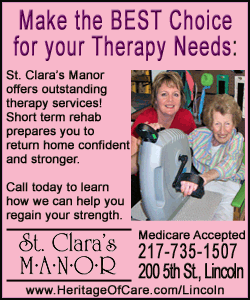 Tuesday, May 14
Blood pressure screenings
SPONSOR: Abraham Lincoln Memorial Hospital
WHO: Public
DETAILS: Free blood pressure screenings are available every Tuesday.
WHERE: Wombacher Room at ALMH, 200 Stahlhut Drive
WHEN: 9 am-noon
Lincoln Writer's Club meeting
SPONSOR: Lincoln Writer's Club
WHO: All welcome
DETAILS: (See article.)
WHERE: Alumni Room of Lincoln College student center
WHEN: 6:30 pm
This Golden Age Tech Talk program
SPONSOR: Atlanta Public Library series
sponsored by Quiram-Peasley Funeral Home
WHO: Public. Topics of particular interest to people over 50.
DETAILS: Topic: "Navigating Windows 7"
(See article.) (See info on library website.)
WHERE: Atlanta Public Library, 100 Race St., Atlanta
WHEN: 6:30-8 pm
Wednesday, May 15
Farmers' Market
SPONSOR: Farmers' Market
WHO: Public
DETAILS: Market open Wednesday and Saturday mornings, 8-noon, through October.
WHERE: Latham Park
WHEN: 8 am-noon
Lincoln Woman's Club meeting
SPONSOR: Lincoln Woman's Club
WHO: Members
DETAILS: (See article.)
WHERE: 230 N. McLean
WHEN: Noon
Breastfeeding support group
SPONSOR: Abraham Lincoln Memorial Hospital
WHO: New mothers
DETAILS: Weekly breastfeeding support group. Participants will weigh their babies and have an opportunity to share stories and ask questions of a certified lactation consultant. Bring your lunch.
http://www.almh.org/About-ALMH/News/NewsDetail.aspx?id=306
WHERE: Steinfort B at ALMH, 200 Stahlhut Drive
WHEN: Noon-1:30 pm
Lincoln Farmer's Market
SPONSOR: Lincoln Farmer's Market
WHO: Public
DETAILS: Market open Wednesdays 3-6 pm, Saturdays 7 am-noon, through Oct. 26
http://www.lincolnfarmersmarket.org/
WHERE: Scully Park, 316 S. Kickapoo
WHEN: 3-6 pm
Thursday, May 16
Mount Pulaski Rotary lunch
SPONSOR: Mount Pulaski Rotary Club
WHO: Approved, dues-paying members
DETAILS: Weekly lunch
(More information)
WHERE: Buff's Restaurant on the Mount Pulaski square
WHEN: Noon-1 pm
Kickoff of Caregivers Together support group
SPONSOR: The Christian Village
WHO: All caregivers
DETAILS: (See article.)
WHERE: Senior Apartment Building, The Christian Village, 1507 Seventh St.
WHEN: 1:30 pm
Together for Lincoln pork chop dinner
SPONSOR: Together for Lincoln
WHO: Public
DETAILS: Proceeds will support Together for Lincoln projects.
(See article.)
WHERE: IGA parking lot
WHEN: 4-7 pm
Bereavement support group
SPONSOR: Memorial Home Services Hospice
WHO: Public
DETAILS: Meetings are geared for adults. "Our support group will provide an opportunity for people to be able to mutually share and support each other," said Bitsy Knepler, bereavement coordinator for Memorial Home Services Hospice. "Those who have suffered a loss can discuss their feelings, gain support from others in a similar situation and know that they are not alone." Meetings will be the third Thursday of each month at the same time and place.
WHERE: Steinfort Room at ALMH, 200 Stahlhut Drive in Lincoln
WHEN: 6-8 pm
Saturday, May 18
Lincoln Farmer's Market
SPONSOR: Lincoln Farmer's Market
WHO: Public
DETAILS: Market open Wednesdays 3-6 pm, Saturdays 7 am-noon, through Oct. 26
http://www.lincolnfarmersmarket.org/
WHERE: Scully Park, 316 S. Kickapoo
WHEN: 7 am-noon
Elkhart Farmer's Market
WHO: Public
DETAILS: (See publicity.)
WHERE: West side of Horsefeathers, Elkhart
WHEN: 7 am-noon
Farmers' Market
SPONSOR: Farmers' Market
WHO: Public
DETAILS: Market open Wednesday and Saturday mornings, 8-noon, through October.
WHERE: Latham Park
WHEN: 8 am-noon
Plant sale
SPONSOR: Logan County Master Gardeners
WHO: Public
DETAILS: (See article.) (See album.)
WHERE: Logan County Fairgrounds
WHEN: 9 am-noon
Relay For Life luminaria sale
SPONSOR: American Cancer Society Relay For Life of Logan County
WHO: Public
DETAILS: (See article.)
WHERE: Lincoln IGA
WHEN: 9 am-2 pm
Lincoln Christian University commencements
SPONSOR: Lincoln Christian University
WHO: Families and friends are welcomed.
DETAILS: There will be two commencement services in the Earl C Hargrove Chapel at Lincoln Christian University. At the 10 am service, LCU will honor the students receiving associate and bachelor's degrees from both the School of Undergraduate Studies and the Hargrove School of Adult & Graduate Studies. At the 1 pm service, LCU will honor students receiving master's and doctoral degrees from both the Hargrove School of Adult & Graduate Studies and Lincoln Christian Seminary.
(See article.)
WHERE: 100 Campus View Drive
WHEN: 10 am and 1 pm
3rd Saturday Community Meal
SPONSOR: Logan County Love
WHO: Open to the public
DETAILS: Free meal provided to the public. Everyone welcome. Bring a friend or come alone and enjoy good company among your neighbors and friends.
WHERE: St. John United Church of Christ, 204 Seventh St.
WHEN: 5-6:30 pm
Sunday, May 19
Relay For Life Breakfast
SPONSOR: American Cancer Society Relay For Life of Logan County
WHO: Public
DETAILS: (See article.)
WHERE: Lincoln College
WHEN: 11 am-1 pm
Quarter auction
SPONSOR: Eagles Lodge
WHO: Open to the public
DETAILS: Over 20 vendors and over 60 items. Country Heart Treasures, Babyations, Origami Owl, Gourmet Cupboard, Liberty Lady Designs, Tupperware, Lia Sophia, In & Out Décor, Pink Zebra, Paparazzi, Sixth Street Jewelry, Norwex, K's Face and Body, Lemongrass, Clever Container, 31 and Cookie Lee. There are also donated charity items, including Cardinal tickets, grilling basket, golf Items, gift certificates and more.
WHERE: Eagles Lodge, 1621 N. Kickapoo
WHEN: Kitchen and doors open at noon. Auction starts at 2 pm.
Tuesday, May 21
Blood pressure screenings
SPONSOR: Abraham Lincoln Memorial Hospital
WHO: Public
DETAILS: Free blood pressure screenings are available every Tuesday.
WHERE: Wombacher Room at ALMH, 200 Stahlhut Drive
WHEN: 9 am-noon
Gardening program: "Don't Doubt the Drought"
SPONSOR: University of Illinois Extension
WHO: Public, by registration
DETAILS: (See article.) (Register)
WHERE: U of I Extension building, 980 N. Postville Drive
WHEN: 1 pm
Chicken noodle dinner
SPONSOR: Eagles Lodge
WHO: Open to the public
DETAILS: Chicken and noodles, homemade mashed potatoes, green beans, roll, and dessert. Dine in, carry out or free delivery. Call 217-732-2708 the day of the dinner to place order, or to pre-order call 217-671-9790 anytime.
WHERE: Eagles Lodge, 1621 N. Kickapoo
WHEN: 4-7 pm
Wednesday, May 22
Farmers' Market
SPONSOR: Farmers' Market
WHO: Public
DETAILS: Market open Wednesday and Saturday mornings, 8-noon, through October.
WHERE: Latham Park
WHEN: 8 am-noon
Breastfeeding support group
SPONSOR: Abraham Lincoln Memorial Hospital
WHO: New mothers
DETAILS: Weekly breastfeeding support group. Participants will weigh their babies and have an opportunity to share stories and ask questions of a certified lactation consultant. Bring your lunch.
http://www.almh.org/About-ALMH/News/NewsDetail.aspx?id=306
WHERE: Steinfort B at ALMH, 200 Stahlhut Drive
WHEN: Noon-1:30 pm
Lincoln Farmer's Market
SPONSOR: Lincoln Farmer's Market
WHO: Public
DETAILS: Market open Wednesdays 3-6 pm, Saturdays 7 am-noon, through Oct. 26
http://www.lincolnfarmersmarket.org/
WHERE: Scully Park, 316 S. Kickapoo
WHEN: 3-6 pm
Thursday, May 23
Mount Pulaski Rotary lunch
SPONSOR: Mount Pulaski Rotary Club
WHO: Approved, dues-paying members
DETAILS: Weekly lunch
(More information)
WHERE: Buff's Restaurant on the Mount Pulaski square
WHEN: Noon-1 pm
Blood drive
SPONSOR: Atlanta Christian Church
WHO: Open to the public
DETAILS: Central Illinois Community Blood Center blood drive. To make an appointment, call CICBC at 217-241-7550 or 1-866-GIVE-BLD (1-866-448-3253), ext. 5158, or sign up through www.bloodcenterimpact.org, Walk-ins are welcome. Bring donor ID or a photo ID.
WHERE: St. Mary's Catholic Church, 805 Pearl St.
WHEN: Noon-6 pm
Saturday, May 25
Lincoln Farmer's Market
SPONSOR: Lincoln Farmer's Market
WHO: Public
DETAILS: Market open Wednesdays 3-6 pm, Saturdays 7 am-noon, through Oct. 26
http://www.lincolnfarmersmarket.org/
WHERE: Scully Park, 316 S. Kickapoo
WHEN: 7 am-noon
Elkhart Farmer's Market
WHO: Public
DETAILS: (See publicity.)
WHERE: West side of Horsefeathers, Elkhart
WHEN: 7 am-noon
Farmers' Market
SPONSOR: Farmers' Market
WHO: Public
DETAILS: Market open Wednesday and Saturday mornings, 8-noon, through October.
WHERE: Latham Park
WHEN: 8 am-noon
Family Fun Day 5K
SPONSOR: Open Arms Christian Fellowship, Lincoln Area Running Club, Anytime Fitness
WHO: By registration
DETAILS: Proceeds support July 20 Family Fun Day.
(Registration form)
WHERE: Open Arms Christian Fellowship, 311 Broadway
WHEN: 8 am
Blood drive
SPONSOR: Hampton Inn
WHO: Open to the public
DETAILS: Central Illinois Community Blood Center blood drive. To make an appointment, call CICBC at 217-241-7550 or 1-866-GIVE-BLD (1-866-448-3253), ext. 5158, or sign up through www.bloodcenterimpact.org, Walk-ins are welcome. Bring donor ID or a photo ID.
WHERE: Hampton Inn, 1019 N. Heitmann Drive
WHEN: 11 am-2 pm
Tuesday, May 28
Blood pressure screenings
SPONSOR: Abraham Lincoln Memorial Hospital
WHO: Public
DETAILS: Free blood pressure screenings are available every Tuesday.
WHERE: Wombacher Room at ALMH, 200 Stahlhut Drive
WHEN: 9 am-noon
Quarter auction
SPONSOR: LifePointe Church of God
WHO: Open to the public
DETAILS: Vendors include Lemongrass Spa, Cloth Penguin, Pampered Chef, Paparazzi, Tupperware, Dove Chocolate Discoveries, Lia Sophia, Babyations, Jamberry Nails, Scentsy, Pink Zebra, Celebrating Home, It Works, Clever Container Lady, Faith Jewelry, BeautiControl and many more. Come eat and enjoy all the fun. For more information, call Terri at 737-0739.
WHERE: LifePointe Church of God, 601 Pulaski St. (former Courier building)
WHEN: Doors open at 5:30 pm; auction at 6:30 pm
Wednesday, May 29
Farmers' Market
SPONSOR: Farmers' Market
WHO: Public
DETAILS: Market open Wednesday and Saturday mornings, 8-noon, through October.
WHERE: Latham Park
WHEN: 8 am-noon
Square Talk
SPONSOR: Main Street Lincoln and Jacy Group
WHO: Business owners
DETAILS: Topic: 7 Steps to Small Business Marketing ... Practiced effectively, marketing is simply a system.
(See article.)
WHEN: 11:30 am-1 pm
Breastfeeding support group
SPONSOR: Abraham Lincoln Memorial Hospital
WHO: New mothers
DETAILS: Weekly breastfeeding support group. Participants will weigh their babies and have an opportunity to share stories and ask questions of a certified lactation consultant. Bring your lunch.
http://www.almh.org/About-ALMH/News/NewsDetail.aspx?id=306
WHERE: Steinfort B at ALMH, 200 Stahlhut Drive
WHEN: Noon-1:30 pm
Lincoln Farmer's Market
SPONSOR: Lincoln Farmer's Market
WHO: Public
DETAILS: Market open Wednesdays 3-6 pm, Saturdays 7 am-noon, through Oct. 26
http://www.lincolnfarmersmarket.org/
WHERE: Scully Park, 316 S. Kickapoo
WHEN: 3-6 pm
Thursday, May 30
Mount Pulaski Rotary lunch
SPONSOR: Mount Pulaski Rotary Club
WHO: Approved, dues-paying members
DETAILS: Weekly lunch
(More information)
WHERE: Buff's Restaurant on the Mount Pulaski square
WHEN: Noon-1 pm