"I've always drawn, since I was big enough to hold a crayon, and as I drew I was telling stories in my head about the things I was drawing," explained Chapman. "I learned from drawing that drawings have stories, and I discovered that telling those stories was my real passion."

Using clips from films, including many of the films she helped create for Disney Studios, Chapman explained story and character development, theme, plot, and other elements that fit together to make a well-told story. Later she assigned students to work in pairs to interpret and perform a short script as a way to practice storytelling.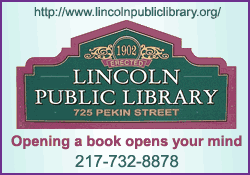 Several faculty members and administrators were also in the audience, including Anne Moseley, assistant director of the Lincoln Heritage Museum, who plans to apply Chapman's ideas to her own work.
"We can use her insights about storytelling in the museum to help us do a better job of telling Lincoln's story, to help us make the museum and history come alive for other people," said Moseley. "It was also fun seeing the students in their element, performing the stories they created from their script. I could really see the potential for students to perform in the museum. We hope Brenda will be able to come visit the museum when it opens in April and see what we've done and how we're telling Lincoln's story."
Chapman grew up in Beason, attended Lincoln Community High School and graduated from Lincoln College in 1982. She went on to study animation at the California Institute of the Arts and has worked for Disney and Pixar Studios. She is currently working on projects for DreamWorks Animation.
Chapman received Lincoln College's Outstanding Alumni Achievement Award in 1997 and was given an honorary Doctor of Fine Arts degree by Lincoln College in May 2013.
[Text from file received from Lincoln College]
Previous related articles