City of Lincoln fall cleanup schedules: landfill hours and leaf pickup days

Send a link to a friend
[October 24, 2013] For the convenience of Lincoln residents, the city landfill will be open six days a week beginning Tuesday, Oct. 29. Landfill hours will be Tuesday through Sunday, 8 a.m. to 3:50 p.m., and closed on Mondays.
The landfill is specifically for landscape waste. Trash dumping will not be permitted there.

With the new city agreement for commercial mulching, products brought to the landfill by residents should be separated into two categories: wood products and lawn waste, such as plant material and leaves.

Wood waste for mulching is defined as logs, limbs or brush. All wood materials for recycling must be free of all metal or foreign debris, excluding nails and bolts three-eighths inch or smaller. Logs and limbs should be cut to a maximum length of 4 feet.

The landfill will maintain a six-day-a-week schedule through Tuesday, Nov. 26. Afterward the schedule will go back to open hours Saturday and Wednesday from 8 a.m. to 3:50 p.m.

The city of Lincoln will also do free leaf pickup inside the city limits. Pickup dates will be scheduled by ward and are as follows:

Ward 1:
Monday, Oct. 28

Thursday, Nov. 7

Wednesday, Nov. 20
Ward 2:
Wednesday, Oct. 30

Tuesday, Nov. 12

Friday, Nov. 22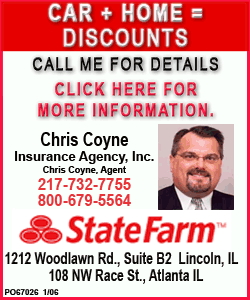 Ward 3:
Friday, Nov. 1

Thursday, Nov. 14

Monday, Nov. 25
Ward 4:
Tuesday, Nov. 5

Monday, Nov. 18

Monday, Dec. 2
Leaves are to be placed in biodegradable bags at the curb by 7 a.m. the day of the scheduled pickup for your ward.