Flu facts
From the Logan County Department of Public Health
Send a link to a friend
[October 24, 2013] The single best way to protect against seasonal flu and its potential severe complications is to get a flu vaccine every year. Are you or a member of your family at increased risk of getting the flu or experiencing flu-related complications? Although the flu vaccine is recommended for everyone 6 months of age and older, the following groups are at increased risk of getting the flu or experiencing complications related to the flu:
Children are at higher risk for the flu because their immune systems are not fully developed. Children with chronic health conditions are at even higher risk.

Changes to a pregnant woman's immune system can make her more sensitive to the flu. If you get the flu shot during pregnancy, it will provide some protection to your baby after he or she is born.

Because your immune systems weaken as you age, adults age 65 years and older are more susceptible to the flu.

People who have certain medical conditions -- including asthma, neurological and neurodevelopmental conditions, chronic lung disease, heart disease, blood disorders, endocrine disorders, kidney disorders, metabolic disorders, weakened immune system due to disease or medication, people younger than 19 years of age who are receiving long-term aspirin therapy, and people who are morbidly obese -- are all at an increased risk of getting the flu or experiencing complications from the flu.
The hours for vaccines at the Logan County Department of Public Health, 109 Third St., are Monday through Thursday, 7:30 a.m. until 4 p.m. No appointment is required.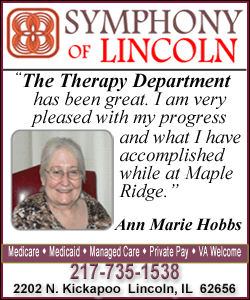 The cost of the seasonal flu shot is $27 for adults and children with health insurance that covers vaccines, $23.75 for children 6 months through 18 years of age who have no health insurance or health insurance that doesn't cover vaccines, and free to those with a Medicaid or Medicare card.
For more information on the seasonal influenza vaccine, call the health department at 217-735-2317.
For more information, visit www.flu.gov and www.lcdph.org.
[Text from file received from the Logan County Department of Public Health]