Area Agency on Aging will host Lunch and Learn at Oasis for family caregivers

Send a link to a friend Share
[April 04, 2014] The Area Agency on Aging for Lincolnland, in cooperation with Senior Citizens of Logan County, has scheduled a Lunch and Learn program for informal caregivers of older adults and for grandparents and other relatives raising children. The session will be at St. John United Church, the temporary location of the Oasis Senior Center, at 210 Seventh St. in Lincoln, on April 15 from noon to 1 p.m. (Click here for the rest of the story.)
6 signs your retirement plan is in trouble
Estate planner shares tips for avoiding a 2008-style disaster during the 'distribution' years
After the 2008 economic meltdown, when the stock market fell 37 percent, veteran financial adviser Curt Whipple met with clients from outside financial institutions who'd lost 50 to 60 percent of their portfolio in a single year. (Click here for the rest of the story.)
---
Online fraud: Are you next?
The difference between computer users who get scammed and those who don't often comes down to a simple checklist: In just-released research, AARP identifies 15 particular behaviors, life situations and knowledge attributes that significantly increase vulnerability to online fraud. (Click here for the rest of the story.)
---
Illinois Department of Insurance warns about the dangers of stranger-originated life insurance arrangements, or STOLIs
STOLIs not the same as traditional insurance policies and illegal in Illinois
CHICAGO — Illinois Department of Insurance Director Andrew Boron is warning consumers about stranger-originated life insurance arrangements. Unlike a traditional life insurance policy where a consumer initiates the application for insurance and the insured's loved ones are beneficiaries of the death benefits, a stranger-originated life insurance arrangement involves a group of investors, often strangers, who initiate the application for life insurance by offering the participant an upfront lump-sum payment in exchange for allowing the group to purchase the insurance on the participant's life. (Click here for the rest of the story.)
---
Millions of MSNs are undeliverable: Are you getting yours?
By Jason B. Echols, health care consumer protection coordinator with AgeOptions
OAK PARK — The U.S. Department of Health and Human Services Office of Inspector General recently released a report that over 4 million Medicare Summary Notices, or MSNs, were undeliverable to Medicare beneficiaries in 2012. The most common reason why the notices were undeliverable is because of incorrect or invalid beneficiary addresses. You can read the full report here: https://oig.hhs.gov/oei/reports/oei-03-12-00600.asp. (Click here for the rest of the story.)
---
---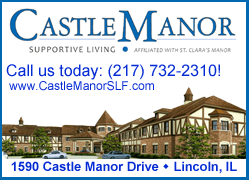 ---
Elderly profit from group meetings and home visits
By Ronnie Cohen
NEW YORK (Reuters Health) — Group meetings and preventive home visits helped octogenarians maintain their health, independence and a positive outlook, according to a first-of-its-kind study in Sweden. (Click here for the rest of the story.)
---
Christian Village offers 'Almost Home' temporary apartment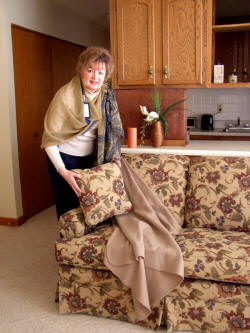 Julie King, Christian Village director of independent living, puts the finishing touches on the Almost Home apartment available for individuals needing a temporary place to stay before going home from the hospital or nursing home.
After a hospital or nursing home stay, some people are unable to return home because they can't handle housekeeping and meal preparation. To help these individuals while they're regaining their strength, The Christian Village has established an "Almost Home" apartment that can be rented by the week. (Click here for the rest of the story.)
---