National Public Health Week: IDPH wants to empower you to improve your health

Send a link to a friend Share
[April 09, 2014] SPRINGFIELD — If you have ever eaten at a restaurant, gone to a hospital, needed an ambulance or received a flu shot, you've been touched by public health. The Illinois Department of Public Health, in conjunction with 96 certified health departments across the state, works every day to control infectious diseases; ensure food safety; conduct newborn screenings; provide immunizations; regulate hospitals and nursing homes; compile birth, death and other statistics; and educate communities on how to live healthier lives. April 7-13 is National Public Health Week, a time to recognize the contributions of public health and highlight issues that are important to improving our nation.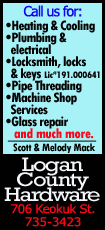 "For the first time in decades, the current generation is not as healthy as the previous generation," said IDPH Director LaMar Hasbrouck. "I encourage people to look at their health, the health of their family and of their community to see what positive changes can be made to improve the quality of life and rebound to a healthier generation."

This year's theme for National Public Health Week is "Public Health: Start Here" and each day has a specific focus.

For "Did you know?" highlights on each daily topic below, click here (PDF).

On Wednesday at 10:30 a.m., Dr. Hasbrouck, the IDPH director, will attend the Health Check Clinic at the Henry and Stark County Health Department, 4424 U.S. Highway 34 in Kewanee. At 12:15 p.m., he will attend the Knox County Health Department recognition luncheon at 1361 W. Freemont St. in Galesburg. At 5 p.m., he will attend the annual Madison Community Unit School District Health Fair at Bernard Long Elementary School, 1003 Farrish St. in Madison.
On Friday at noon, IDPH will join the National Center for Rural Health Professions and the Winnebago County Health Department at the University of Illinois College of Medicine at Rockford, 1601 Parkview Ave. in Rockford, to celebrate all things public health.
You can also check with your local health department for upcoming events or health fairs in your area.
IDPH is committed to promoting awareness of health issues and how to address them through developing and expanding partnerships. Building partnerships is just one of IDPH's priorities in its Five Year Strategy 2014-2018 (PDF).
[Text from Illinois Department of Public Health file received from the Illinois Office of Communication and Information]