Olympians of Social Security
By Becky Whitlow, Social Security district manager in Springfield

Send a link to a friend
[February 11, 2014] SPRINGFIELD — While the eyes of the world focus on the XXII Winter Olympics in the resort town of Sochi, Russia, this month, the Social Security Administration brings your attention to another worthy focal point: Internet safety. (Click here for the rest of the story.)
Can word games make us smarter?
Award-winning author shares three ways to teach kids language skills and keep elderly minds sharp
When older generations complain about reading and writing skills among today's youth, they point accusingly at technological advances, says award-winning author and college teacher Daniel L. Wick. (Click here for the rest of the story.)
---
Peripheral artery disease: Screening and early treatment can save your legs and your life
(BPT) — Frequent leg cramps, leg pain when walking and slow-to-heal sores on your feet are annoying, but did you know they can also be symptoms of a serious disease? (Click here for the rest of the story.)
---
Alzheimer's caregivers: Tips to take care of yourself, too
(BPT) — Taking care of an ill loved one is never easy, but for the 15 million Americans who provide care for someone with Alzheimer's disease, the emotional and financial toll of caregiving can be overwhelming. Last year, caregivers provided more than 17 billion hours of unpaid care for Alzheimer's disease patients, amounting to $216 billion of care, according to the Alzheimer's Association. They often experience emotional stress, depression, health problems of their own and a loss of wages, the association reports. (Click here for the rest of the story.)
---
Three New Year's resolutions that will enrich your retirement
Financial adviser shares steps everyone should take in 2014
For many baby boomers looking to retire in the next few years, the biggest worry is not whether or not they can retire, but if they'll outlive their savings. (Click here for the rest of the story.)
---
---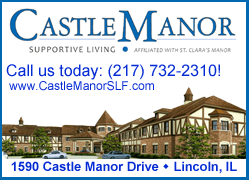 ---
SOCIAL SECURITY COLUMN
Ring in the new year with a COLA
By Becky Whitlow, Social Security district manager in Springfield
SPRINGFIELD — Many people ring in the new year with Champagne. People who receive Social Security or Supplemental Security Income get to ring it in with a COLA. This year, more than 60 million Americans are receiving a 1.5 percent cost-of-living adjustment, known as a COLA, in their monthly benefit payment. (Click here for the rest of the story.)
---
Are you prepared for what you'll find when you visit your parents this holiday season?
Warning signs that a person needs daily assistance & tips for planning for it
The holidays and their aftermath are the busiest time of year for long-term care admissions, says expert Chris Orestis. (Click here for the rest of the story.)
---
In observance of Caregivers Awareness Month, state reminds families about resources to assist them
Department on Aging administers the Family Caregiver Support Program
SPRINGFIELD — Increasing numbers in the aging population have led to an increased need for caregivers. The term "caregiver" refers to anyone who provides assistance to someone else who needs it. Though a caregiver can be anyone, it is often a family member who steps in to provide extra support and attention for an elderly loved one. (Click here for the rest of the story.)
---