Lincoln Daily News
welcomes letters of appreciation, information and opinion on matters pertaining to the community.
As a community we need to be able to talk openly about matters that affect the quality of our lives. The most effective and least offensive manner to get your point across is to stick to the issue and refrain from commenting on another person's opinion. Letters that deviate from focusing on the issue may be rejected or edited and marked as such.
You may also send your letters by email to ldneditor@lincolndailynews.com
or by U.S. postal mail:
Letters to the Editor
Lincoln Daily News
601 Keokuk St.
Lincoln, IL 62656
Letters must include the writer's name, telephone number, and postal address or email address (we will not publish address or phone number information). Lincoln Daily News reserves the right to edit letters to reduce their size or to correct obvious errors. Lincoln Daily News reserves the right to reject any letter for any reason. Lincoln Daily News will publish as many acceptable letters as space allows.
To the editor of Lincoln Daily News:

I am responding to the letter to the editor by Ron Yanor of Adamax (see letter). I want to address the issues he raised concerning the Lincoln Police Department. Mr. Yanor has not brought any of the issues in his letter to my attention during my last 3 1/2 years as chief of police.

The matter concerning beer cans in the trash at his range was before my administration. It is my understanding that there was no evidence that any Lincoln police officer was responsible for those beer cans. Adamax is on the outskirts of Lincoln, and young people have used that area for years to drink alcohol. These problems may have contributed to the reasons that led Adamax to install a gate and improve security measures at their facility.

I am also unaware of any arrangement for the Lincoln Police Department to maintain or clean any part of the Adamax's facilities or the range. If the range facilities have fallen into disrepair, no one has notified me of such, or that we were responsible for the upkeep. I was only informed that we had to go through Adamax if we wished to use the range. The few times I have been to Adamax and the range in recent years, I found the range to have a large number of spent bullet casings lying everywhere and the trash cans were full. I do not know who or what agency was responsible for the mess, but as long as I have been a Lincoln police officer, we have always picked up our used brass after training. No one ever contacted me with any complaint of how Lincoln police officers left their facility.
Shortly after I was appointed chief, Mr. Yanor came to see me and told me about his facilities and the classes he offers through MTU 10. As Mr. Yanor states in his letter, the Lincoln Police Department is a member of Mobile Training Unit 10 (MTU 10). The MTU is comprised of participating law enforcement agencies from several central Illinois counties. The MTU arranges and helps to pay for training to be provided to local law enforcement agencies who are members. The MTU receives funding from the Illinois Law Enforcement Training and Standards Board, the state agency that oversees all law enforcement training in Illinois; grants; membership dues, which Lincoln pays; and in some cases, the membership agencies also pay separate fees for training. As Mr. Yanor states, Adamax provides training for MTU 10 agencies, and Adamax is paid by both the MTU and by the participating agencies.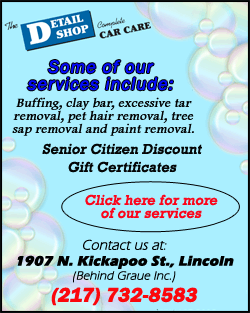 Mr. Yanor states that he has offered his training for free to the Lincoln Police Department and that the department rebuffed him several times. Last year, our department paid Adamax $900 for the training that was received for three officers he mentioned in his letter. I have as yet to have received an offer for a refund from Mr. Yanor. People who know me know that I do not rebuff offers for free training.
In recent years, we have made other arrangements for our officers to use other local ranges, as have other agencies. This is due to scheduling conflicts that have occurred at Adamax's facility. I appreciate that Adamax has enjoyed the success that led to these scheduling conflicts. I truly appreciate the training services that Adamax offers to law enforcement. I especially appreciate the business that Adamax brings to our local restaurants and hotels.
What I do not appreciate is Mr. Yanor involving the Lincoln Police Department in what is an obvious election time letter.
Chief Ken Greenslate
Lincoln Police Department
[Posted March 11, 2014]
Click here to send a note to the editor about this letter.