Send a link to a friend Share
May 2014
---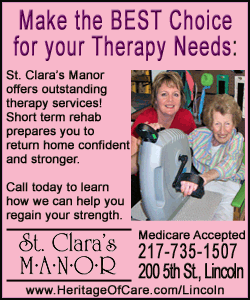 Saturday, May 31
Lincoln Farmer's Market
HOSTED BY: Lincoln Farmer's Market
WHO: Public
DETAILS: (See publicity.)
WHERE: Scully Park
WHEN: 7 am-noon
Hunter Education Course
HOSTED BY: Logan County Quail and Upland Game Alliance
WHO: public
DETAILS: hunting instruction (see article)
WHERE: Lincoln Park District, Lincoln
WHEN: 9 a.m. -- 3 p.m.
HSLC Garage Sale Drop off
HOSTED BY: Humane Society of Logan County
WHO: Rotary members
DETAILS: Those who wish to donate items to the HSLC may do so on Wednesday's and Saturday's from now through June 7. Items should be brought to the Logan County Fairgrounds using the south entry. Anyone who needs items picked up can call 217-732-1979 or 217-732-7853.
WHERE: Logan County Fairgrounds, south entrance.
WHEN: 10 a.m. - 2 p.m.