November 6
"Takes on Nature" opens Nov. 6 at the Lincoln Art Institute


Send a link to a friend Share
[November 05, 2014] "Takes on Nature: Artists' Views of the Great Outdoors" will open with a reception from 5 to 8 p.m. Thursday, Nov. 6 at Lincoln Art Institute, which is located at 112 S. McLean St., next to the Lincoln Post Office. (Click here to continue reading)
---
November 7
Friday night Dinner Program at the Palms Grill
How Homing Pigeons Helped Win the War
ATLANTA - Tammy Hanley of Peoria loves to talk about the role homing pigeons played in World War II. She'll quickly inform you that there were 56,000 pigeons trained - and 32,000 used - in combat during that conflict. Dressed in the uniform of a Women's Army Corps enlistee, and featuring several of her live pigeons in World War II-era harness, Tammy will present a program on how carrier pigeons carried vital messages between Allied troops and ultimately helped us win World War II. (Click here to continue reading)
---
November 8
Fifth Annual Lincoln Eagles Veteran's Benefit and Spaghetti Dinner
The Fifth Annual Lincoln Eagles Lodge No. 2708 Veteran's Benefit and Spaghetti Dinner will be held on Saturday November 8th at the local Eagles Lodge. The event is open to the public. During the day, various events will be held. (Click here to continue reading)
---
November 14
Singer/Songwriter Brian Davis to appear on Behind the Scenes at the Atlanta Public Library
There are many ways to tell a story, and Behind the Scenes at the Atlanta Public Library continues on November 14 with singer/songwriter Brian Davis who will help us celebrate Say it with a Story Month. In an evening of Song Stories, Brian will perform his own original songs, as well as other great songs that tell a story. (Click here to continue reading)
---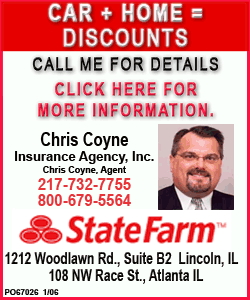 ---
November 29
5th Saturday Opry at Lincoln Eagles
Join the 5th Saturday Opry Band for an evening of country music on November 29! (Click here to continue reading)

---
December 4
Service of Solace
4 p.m. at St. John's Lutheran Church, Hartsburg
For all those facing anxiety and loss, St. John's Hartsburg is hosting a Service of Solace – a time to worship, share memories and remember those we hold dear but are no longer with us. As a community of faith, we share in each other's joys and pain. All are invited to join together for a quiet service interspersed with songs and a hopeful message for those who are grieving.
---
1st Thursday of the month
Fill Your Cup Coffee and fellowship

Fill you Cup is a not cost, relaxing night out just for grown-ups. Come and enjoy an evening of entertainment, coffee and desserts. Hosted by the Lincoln Church of the Nazarene from 6 p.m. to 8 p.m. the first Thursday of each month.

---
Throughout the year
Electronics recycling held on the second Saturday of each month
Habitat for Humanity Logan County will hold its monthly electronics recycling collection on the second Saturday of each month at the Habitat for Humanity warehouse located at 915 Woodlawn Road between the hours of 9 AM and noon. The collection is offered free of charge to the public. Habitat for Humanity Logan County continues to collect televisions for recycling. (Click here to continue reading)
---