CLASSIFIED ADS
---
PUBLISHER'S NOTICE
Federal and state laws prohibit employment advertisements that express a discriminatory preference on the basis of race, age, sex, color, national origin, religion, handicap, or marital status.
Lincoln Daily News will not knowingly accept advertising for employment which is in violation of these laws. Our readers are informed that employment offerings advertised are available on an equal opportunity basis.
---
PART-TIME
BOOKKEEPER NEEDED
The City of Mt. Pulaski is accepting applications until
Tues., January 5th, 2016 for a part-time bookkeeper.

Experience in accounting and payroll preparation is required. Duties include: preparing bi-weekly payroll, federal, state and payroll tax reporting requirements, monthly accounts payable checks and monthly bank statement reconciliations and monthly financial reports to the City Council

Governmental fund accounting experience and knowledge of tax levy and budgeting process is a plus. References required. This is a non-employee and non-elected position.

Resumes` may be dropped off in person at City Hall during regular business hours from 8am – 4pm weekdays or mailed to:
City of Mt. Pulaski
Attn: Mayor Fuhrer
113 S. Lafayette St.
Mt. Pulaski, IL 62548

Send a link to a friend
---

Send a link to a friend
---
1st Cumberland Presbyterian Church, Lincoln, IL is seeking a dedicated pianist beginning in January 2016. Congregation size is approximately 50 weekly.

Responsibilities include, providing musical accompaniment for one Worship Service each Sunday, accompaniment of 7 member adult choir and rehearsal, providing music for funerals, weddings, and other special services (i.e.
Easter Sunrise, Christmas Eve) throughout the year.
Pay is negotiable.
Send resume to:
Cumberland Presbyterian Church
Attn: Worship Team
P.O. box 596
Lincoln, IL 62656

Send a link to a friend
---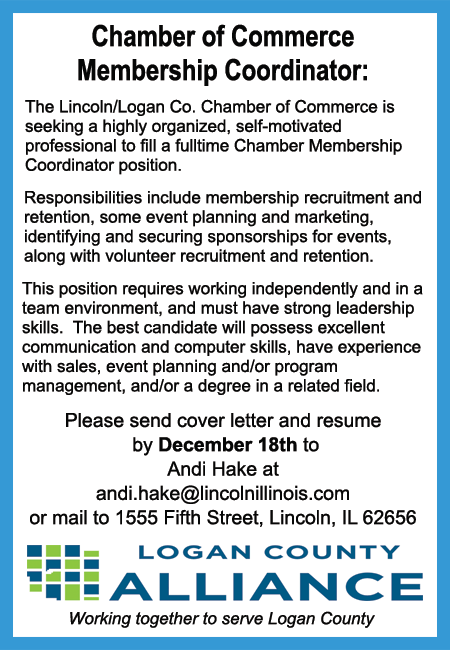 Send a link to a friend
---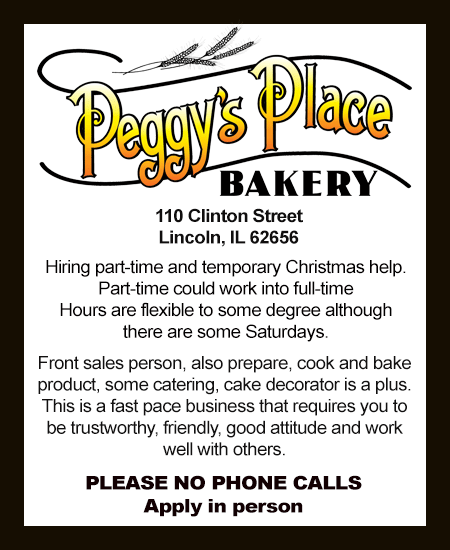 Send a link to a friend