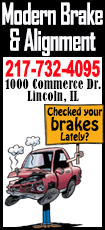 Logan County Zoning Officer Will D'Andrea reviewed changes to the ordinance and reminded ZBA members there had not previously been a Sunset Clause. He said after five years, applicants for a Conditional Use permit would have to begin the approval process again.

ZBA member Judy Graff asked who would decide what "substantially injurious" means.

D'Andrea said adding "substantially" makes the impact clearer.

New ZBA member Scott Noltensmeier asked if those who have already applied for permits would be grandfathered in and not affected by the new standards. New ZBA member Cheryl Baker asked if new wind farms would have to follow the criteria.

D'Andrea said those who have already applied would be grandfathered in and any new wind farms would have to follow new criteria.

Regional Planning Commission member Gerald Lolling asked if the words "substantial progress" could be added to the section about the time limit since there may not be a structure built yet.
Gene Rohlfs said the intent of time limits is that there would be substantial progress, which may not necessarily mean a building. He said wind farms may be paying leases, but not been able to build, they may get extension. After five years, the Logan County Board would look even more closely at whether to grant them another permit.
Noltensmeier asked if the words "substantial capital investment" might work in the section about the time limits.

County Board member Kevin Bateman said the words "evidence of use" leave it open. Sugar Creek [wind farm] making financial payments to landowners or Muck buying parcels for the rock quarry are good example of the intent for use. Bateman said they do not want too much time to pass with no progress.

Brett Farmer said mining is a bit different because there may be many who own the parcels of land to be mined, and asked if each one would have to reapply after five years.

D'Andrea said if the owners have a plan, years one through five, and five through ten, would be part of the Conditional Use. When the project is coordinated in one plan or operation, there are not separate conditional uses, so moving to a new parcel would be a continuation of the existing operation. If the projects are done individually, then each would apply separately. He said Relight [wind farm] has 70 [land parcels] involved in their project.

Doug Muck said that since deposits are not thick in Logan County, a large area has to be mined to get to limestone, and operators would mine about 15 to 20 acres a year. Companies coming in want to have 25 to 40 years of mineable deposits, and Muck said you have to have a lot of acres to make mining profitable.

Muck said if a Conditional Use permit was granted, the same conditions would apply to all parcels in a continuing project unless certain conditions change. He said ordinances need to be specifically set for mining because it is hard to have different uses under one set of rules. Muck does not want the ordinance to be drafted with "too broad a brush."

Noltensmeier asked if other counties have conditional uses?
Laurie Muck said she has looked at other counties' ordinances and regulations and they only apply in certain cases. She said the ZBA and the board need to consider adding more specific language. Other counties have specific ordinances for mining, and Muck said conditional use does not address some issues.

Laurie Muck said the ordinance should be sent back to the Planning and Zoning Committee for additional editing.

Rohlfs asked Laurie Muck what county she looked at for these ordinances and regulations?
She said it was LaSalle County's ordinance, and she feels it has good and concise standards that could be adapted for our ordinance. Regulations from the EPA and Department of Conservation would help prevent problems. She said the committee should look at all portions, not just pieces.

D'Andrea said the Planning and Zoning Committee looked at several counties with more specific details, but they chose a more general approach.

Melanie Blankenship, who is on a Zoning Board in Atlanta, said she likes the changes, but is concerned that they seem to be only looking at two industries. She said that all statutes have some gaps, but with a sunset clause, if a company is reputable, they usually manage to get the work done.
Dave Blankenship said he has found from working in the construction industry that hazards change, so they need to consider why codes evolve. He said it is hard to control problems without sunset clauses.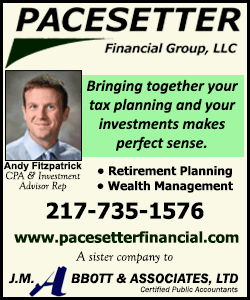 Doug Muck also said there should be a sunset clause for variances that are exceptions to the rules, but feels that mining and wind farms are temporary uses. He said the ordinance should be fashioned for individual business, but does not feel it has been done this way. Muck said a waiver on time limits for good causes would cover special situations and make the ordinance more useful. He said adding obstacles will drive companies away.

Before the Zoning Board voted on the amendments, chairman Doug Thompson had members review each section one more time. Thompson said he did not think the factors for conditional use added anything to the ordinance. Since certain factors are considered anyway, Thompson said they did not need to be spelled out.

Bateman said the Mucks had asked about specific factors, but said perhaps some could be struck out and others added.

ZBA member Derek Martin said factors provide clarity to what could cause harm, so they should be kept in.

D'Andrea said there is a clash of a philosophies on how to amend the language and how to approach the issues.

Thompson said maybe it could be general in some spots and specific in others, and the ZBA could express concerns to the county board.

Dave Blankenship said having it somewhat general protects everyone, so conditions can be adjusted according to what comes forward.

The ZBA recommended the word "substantially" be added to sections one and three to say the Conditional Use "will not be substantially detrimental" to general welfare and "will not substantially impede the normal and orderly development of the surrounding property."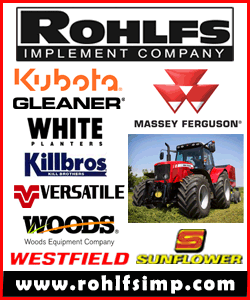 Cheryl Baker asked why the Sunset Clause was being added.

Bateman said there is rezoned land just sitting there, so there is a need for time limits. Other counties are stricter, but still growing.

The ZBA said exceptions may need to be added to the Sunset Clause. Farmer said the clause could be detrimental to mining operations, so he likes the idea of adding some exceptions.

Bateman said putting in some waivers would be helpful. Graff said she added the words "the County Board may consider a waiver" in the Sunset Clause section.

Thompson said they could add the words "substantial capital investment" to the Sunset Clause; but Martin said, "substantial" seems too vague. Thompson said "progress being made" is better.

Everyone on the Zoning Board agreed with the standards for abandonment and revocation, but chose to strike out "a violation of the district regulations" (section b.) as reason for revocation since it is somewhat repetitive.

Noltensmeier motioned to approve the recommendations with additional amendments. The ZBA voted 5 - 1 to pass the amendments with Doug Thompson, Judy Graff, Derek Martin, Brett Farmer, and Scott Noltensmeier voting yes, and Cheryl Baker voting no.

The ZBA recommendation was to be presented to the Logan County Board at their workshop on January 14, 2016.

[Angela Reiners]
LDN will bring you further discussion on the matter from the Thursday night board meeting.

Past related articles

11/16/2015 - Sunsets with sunset clause on Logan County Conditional Use revisions
03/19/2015 - Logan County Board passes zoning ordinance modifications
02/07/2015 - Public hearing introduces Logan County zoning language modernization
A copy of the proposed language changes to the Zoning Ordinance - pdf