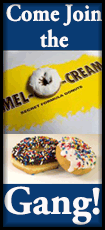 Wilhite explained that the playhouse is coming to Lincoln much to the credit of Natalie Marquez of Lincoln. Marquez is the founder of the Downs Syndrome Advocacy Group (DSAG). Marquez has a daughter who has downs syndrome, and her goal for years has been to bring the Gigiís program to central Illinois.

The Gigiís Playhouse is a worldwide organization that is based in Chicago. Throughout the country and the world, the playhouse programs have been set up for children with downs syndrome and their families.

The program has not moved into central Illinois because there was no single location with a large enough population to support the playhouse program. However, this year, Gigiís began working on a mobile version of the program.

The Lincoln Balloon Festival was chosen as the kick off location for the traveling program because it is centrally located between several large cities including Springfield, Decatur, and Bloomington.
Gigiís Playhouse will set up on a ďpop-upĒ at the Logan County Airport. There will be special programs for children and families according to age of the child. The program begins at 1 p.m. and concludes around 4 p.m. on Saturday.

See separate press release from the DSAG and Gigiís.

Chamber Events Coordinator Kari Adams noted that in addition to the playhouse activities, children will be able to participate in some of the other offerings at the balloon festival in a time of day when things are a little quieter at the airport and there are smaller crowds.
[Nila Smith]