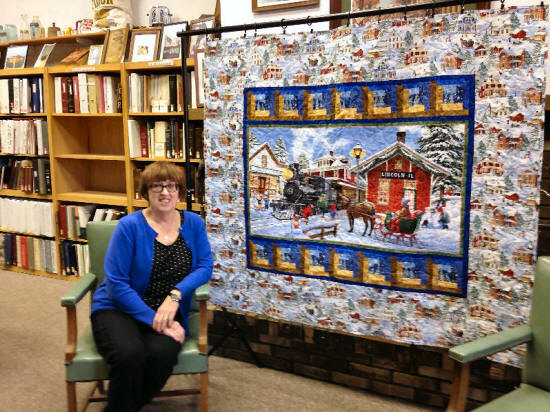 This "Lincoln" quilt pieced by rural Lincoln resident Stacie Wachtel will be on display at the Logan County Genealogical & Historical Society, 114 N. Chicago St., throughout January.
Wachtel is a wholesale fabric representative for Wilmington Prints. She viewed this snowy rural America anywhere fabric designed by an oil artist, John Sloane, and was inspired to piece together the quilt. Wachtel added the Lincoln signage to the Depot. The quilting was done by Lori Elliott of the Make It Sew Shoppe in Lincoln.
The quilt may be viewed Tuesday's, Thursday's, and Friday's from 11 a.m. to 4 p.m. and on the second and fourth Saturday's from 10 a.m. to 1 p.m.
LCGHS photo (click on image for larger version)