OCTOBER IS BREAST CANCER AWARENESS MONTH
Show us YOUR pink!
Email photos to ads@lincolndailynews.com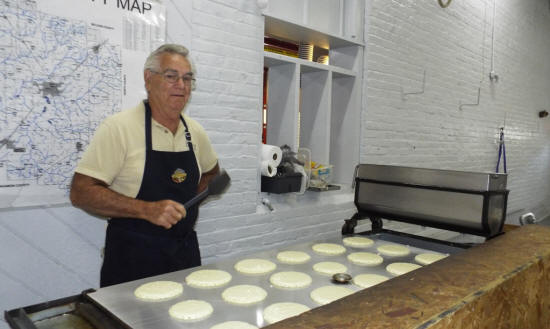 Claude VanFossan stands at the ready as third-graders from West Lincoln-Broadwell School file into the Lincoln Fire Station for breakfast Monday morning. Each year early in October, VanFossan sets up his special pancake cooker at the firehouse and prepares pancakes by the dozens for hungry children, as part of the Lincoln Fire Department's Fire Prevention and Safety Program. Lincoln Fire Inspector Tim Aper, who leads the annual educational program said he and the department are very thankful for VanFossan who comes every year to help out with the breakfast.
Photo by Nila Smith (Click on photo for larger version)