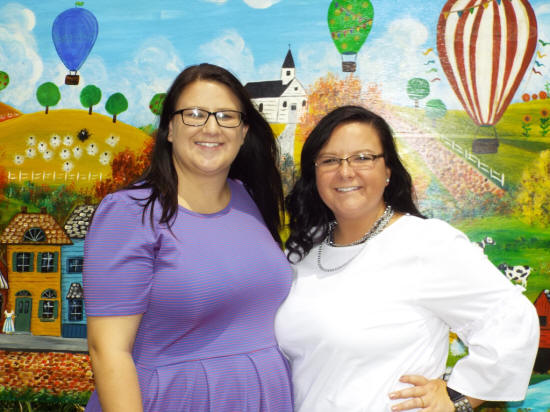 Thursday marked the first official day of the change in management for the Logan County Tourism Bureau. Morgan Gleason (left) stepped into the director position. She follows Cris Wibben, who has moved into the private sector.

Gleason has been with the bureau since April of 2017 and worked closely with Wibben during that time. She has gained knowledge and experience that the tourism board feels will serve the community very well in the future.

Joining Gleason is Kaylee Kirby, who was hired to fill Gleason's prior position of tourism assistant. Kirby grew up in the Mason City area and now lives in Emden with her beau Cole Baker and her best pooch Mila. Kirby is looking forward to becoming an integral part of the tourism staff. She has a degree in agriculture and feels she will be able to bring the ag perspective to tourism. Kirby also looks forward to working with Gleason to promote tourism on the whole within our communities.

Photo by Nila Smith (Click on image for larger version)
From left to right are Rick and Leslie Hoefle and daughter Lauren Sutton, Morgan Gleason and Kaylee Kirby of the Logan County Tourism Bureau, and Lincoln Alderman Ron Fleshman. The group was on hand Thursday to install the new mural at the Lincoln Welcome Garden that was painted by local artists. The brightly colored artwork is mounted out the back side of the Welcome sign at the corner of Kickapoo and Pekin Streets. Be sure to stop by and take a good look.

Photo by Nila Smith (Click on image for larger version)