Out and about with our cameras we started visiting area businesses.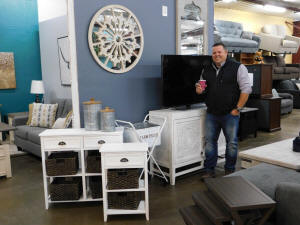 Our first stop was at Jakes Furniture. Jake Johnston has really broadened his offerings. Of course there is still a huge selection of furniture and there are lots of accent pillows to choose from to complete your style.

Jake mentioned that mirrors are a fast selling item this year. And with these shorter days he has a wide selection of floor and table lamps to light your rooms. Home accessories, wall art and gift items round out a fine selection at Jake's.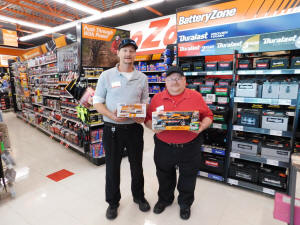 We dropped in on Auto Zone and our conversation with Rex Griffin and Larry Harl led to the popular radio controlled cars, a corvette or classic mustang being favorites.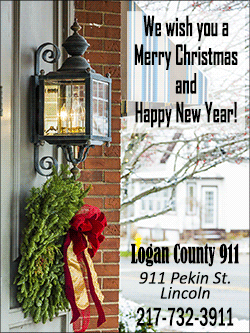 Auto Zone is pretty much all things automotive. Vehicle batteries and windshield deicer are necessary cold weather items they carry.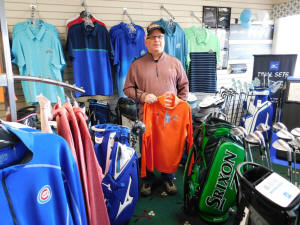 Yes, it is winter but the golf course is calling come this spring. Jeff Peterson has the pro shop open at the Lincoln Elks Golf Course and offers lost of selections for that golfer in your life. If it relates to golf you can find it under his roof. Shirts, bags, balls, caps and gloves. And yes, there is a great selection of golf clubs. All he offers would fit nicely under your tree.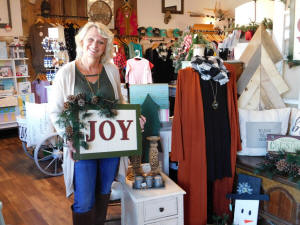 We welcome Cindy's Cottage this year to shop. If you haven't stopped in yet, do so and say hello and welcome to Lincoln. She has a very eclectic inventory and a little of something for everyone. There is no shortage of Christmas décor.

Cindy mentioned that many of her products are produced by local artists. If you have that special female that is hard to buy for she has a great clothing line and lots of jewelry. Cindy has recently introduced RGW candies made in Atlanta to her patrons.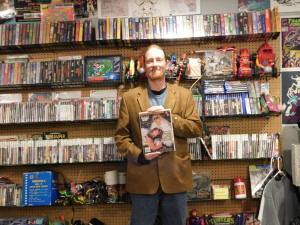 Just a hop, skip and jump away from Cindy's Cottage we engaged with Mickey Tate at Primary Colours. If you have a gamer or comic book collector to buy for on your list, this is the place to stop. Comic books run from the late 70's to current time. Trending toys are there too as well as nostalgic toys. A stop in Primary Colours will take you back in time.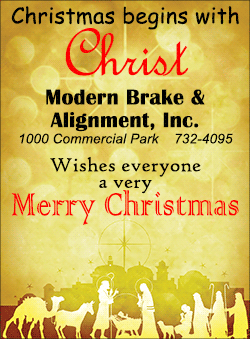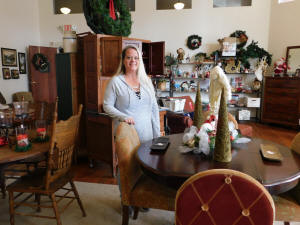 ReNew is one of our gently used and consignment shops downtown. They have expanded and added another room of nice and collectable furniture. Clothing, house wares and small appliances is just a dent in the surface of what you can find.

Jennifer Mollet was more than willing to show us some wonderful bargains.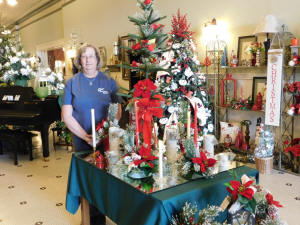 If you want to glam up your house or a loved one's home, stop in at Debbie's Downtown Floral. Plan to spend some time there because it will take you a bit to pick out which arrangement you are really in love with. Beyond florals, there are potted plants, ornaments and just fun whimsical pieces. There are even a few stuffed animals to pick from.

Can't decide what to buy for your loved one, Debbie offers Gift Certificates and that puts the recipient in the driver's seat for selection.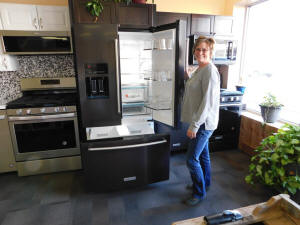 Carie Groves at McEntires greeted us all bright and chipper. If you are in the market for an upgrade in appliances this is the place to be. She was showing us a hot seller, which is really cool. This Kitchen Aid refrigerator will more than store all your Christmas foods for that special get together.

Carie mentioned you could pair it with a matching stove and dishwasher. They offer several choices of dishwashers, washing machines and clothes dryers. They also deliver, install and repair appliances.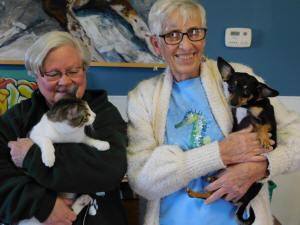 Speaking of home for the holidays, the Humane Society of Logan County has some four legged fur babies that would love to be in your home. Mary Dowdel and Wanda Stevens are holding a little dog 'Sugar' and the cat named Pongo. While Sugar is adopted there are still other dogs to pick from.

And the HSLC wants everyone to know that there are lots of jobs for volunteers to choose from.

The adoption process is fairly straight forward so there is still time to fill out an application and enjoy the wonders of sharing the season with a pet.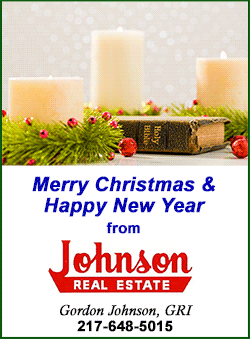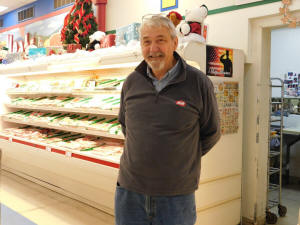 Who doesn't know Charlie Lee at IGA??? Whether you want a custom cut of meat or some of Joy's famous meatloaf, this is the place to go. A wonderful hometown grocery store that really caters to this area's wants and needs. An awesome staff and a large supporter of Lincoln/Logan County organizations exits right there on Pulaski Street. Stop in for your grocery needs and you're sure to find a friend in at least one aisle.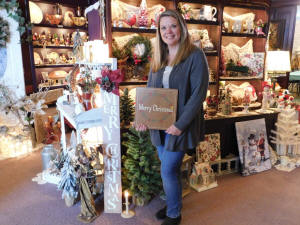 Small Town Creations has taken over the formerly Beans and Such. Kathie Williams greeted us on our visit and shared that she and her husband Jim were the new owners. She wanted to say that they are one stop shopping for all your personalized, one-of-a kind gifts, trophies and awards. The business also offers gourmet coffee beans. Stop in and let the wonderful aroma and tastes from sample-sized cups of coffees tantalize you.

Small Town Creations also offers paint parties and you can create your own masterpiece!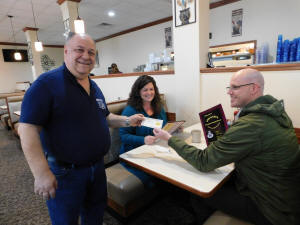 Welcome Imo's Café by stopping in and ordering something delicious. Located on Woodlawn they offer a full menu, salad bar and buffets at certain times.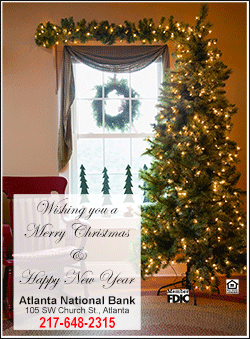 Friday evening from 5 p.m. to 8 p.m. is a dinner buffet. Breakfast buffets are offered on Saturday and Sunday from 7 a.m. to 11 a.m. Imo's will be open for Thanksgiving also.
Do you hate running out to start you car on these cold blustery days? Stop in at Dark Side Window Tinting where Dan and Nikky Fredericks will install a remote car starter. Now you can start the car from the comforts of your home and go out to a nice toasty vehicle. Dark Side Window Tinting also does window tinting to keep your car or truck cooler in the summer. Tinting also helps a passerby from seeing if anything of value is left on the back seat.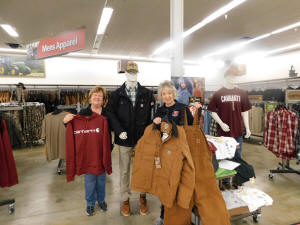 Big R Big R Farm Supply store manager Nancy Stoll and clothing department manager Beth Robbins showed off a bit of the Carhartt clothing line. Perfect for anyone who has to be outdoors in inclement weather. Big R also carries a line of Tingley high visibility outer wear, you won't go un-noticed is those neon reflective colors.

There isn't much you can't find at Big R, that is for sure. Anything from mowers to electrical to plumbing or farm supplies is available. Need animal feed or supplies, a bird feeder or to stock up on bird seed, stop in because they have a huge selection of everything.
A stop in Mount Pulaski at Johnson True Value yielded a massive assortment of choices. Based at the foot of the hill on Washington Street you will find some of the friendliest faces around. More often than not you are called by name and when they ask you what you are looking for, they can lead you right to it. You won't hear it's in aisle six at this location.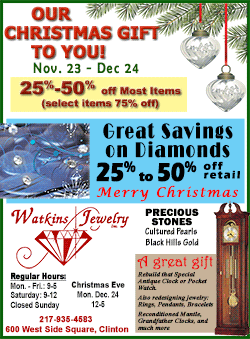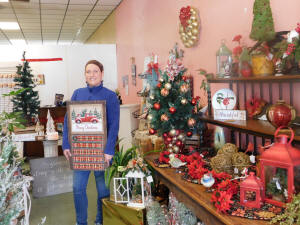 Downtown on the Mount Pulaski Square is Jules Flower Shop. A trip in and it is confirmed that Christmas is in the air. Jules is a truly gifted floral designer and her work is some of the best. Fresh flowers, silks and dried are all mediums she is an artist with. She also carries a lot of signage and items that are perfect for gift giving.

Let's do our best to shop local and support our businesses. The money you spend here is how our merchants shop local too. We need to remember that to keep these businesses here we need to support them. And when you are out asking for a donation for your club or organization, that they are able to support and contribute because you supported them.

Now go get in the car and within minutes check out what we have right here in our home towns.