CLASSIFIED ADS
---
---
---
---
---
---
---
---
---
---
---
---
PUBLISHER'S NOTICE
Federal and state laws prohibit employment advertisements that express a discriminatory preference on the basis of race, age, sex, color, national origin, religion, handicap, or marital status.
Lincoln Daily News will not knowingly accept advertising for employment which is in violation of these laws. Our readers are informed that employment offerings advertised are available on an equal opportunity basis.
---
Springfield Center for Independent Living will be holding a training for individuals wanting to work in the homes of people with disabilities as a Personal Assistant.
In the training you will learn Independent Living philosophy, disability etiquette and how to complete paperwork associated with the Home Services program.
The training is September 14, 2018 10am-4pm. It will be held at the U of I Extension office at 980 N Postville Dr. Lincoln, IL.
For more information contact Melissa Norman at (217) 523-2587 Ext 222 or mnorman@scil.org

Send a link to a friend
---
Class B CDL driver needed
Seeking Class B CDL driver, able to operate a Split-10 manual transmission, to load trucks and make deliveries in and around the Lincoln area; home every night.
Training on routes and delivery specifics is provided. Must have 2 years CDL driving experience, a CLEAN MVR, current DOT physical card, a respectable appearance, and superb customer service skills.
Will be required to pass background test and DOT drug screen.
Must be detail-oriented and willing to work hard every day. We are a small team, so dependability is important. This is a full time position, no weekends, with benefits including Medical, Dental, Vision, Life, FSA Plan, Vacation, and 401k Plan. Salary is $14-$15/hour.
Please send resumes attention Josh Carey
to jcarey@chartauto.com or:
Chart Distribution
1304 Woodlawn Road Lincoln, IL 62656

Send a link to a friend
---

Send a link to a friend
---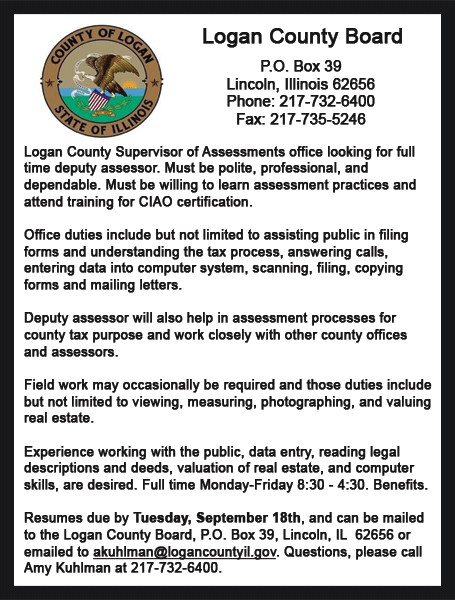 Send a link to a friend
---
BARTENDERS NEEDED
P-T night & weekend help wanted
Illinois Basset Training a PLUS
Pick up application at Am Legion
1740 5th Street Road, Lincoln

Send a link to a friend
---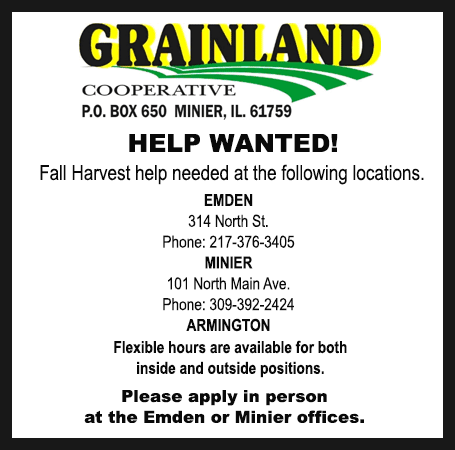 Send a link to a friend
---
---