CLASSIFIED ADS
---
---
---
---
---
---
---
---
---
---
---
---
PUBLISHER'S NOTICE
Federal and state laws prohibit employment advertisements that express a discriminatory preference on the basis of race, age, sex, color, national origin, religion, handicap, or marital status.
Lincoln Daily News will not knowingly accept advertising for employment which is in violation of these laws. Our readers are informed that employment offerings advertised are available on an equal opportunity basis.
---

Send a link to a friend
---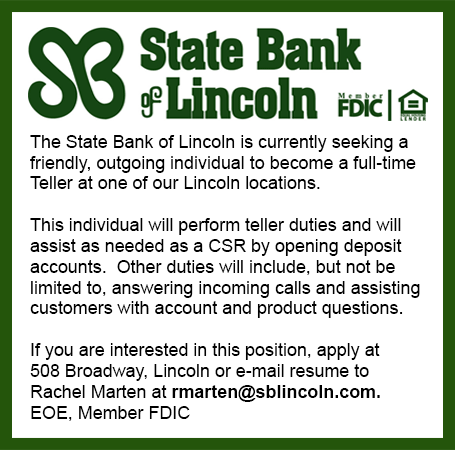 Send a link to a friend
---
Hard Worker
Willing to train
Full time
Please forward resume to Lincoln Daily News
Click here to attach and email resume

Send a link to a friend
---
Office assistant part/full time.
People person with the ability to handle multiple tasks.
Must Be organized and Some computer skills a plus..
Please send resumes to..
catlyst222@gmail.com

Send a link to a friend
---
Garland Gehrke Trucking Inc - Lincoln IL is hiring - CDL tractor/trailer driving positions open in our regional division and local days division.
Recently upgraded pay incentives - call for all the details. Contact our safety department to find out if you qualify.
This phone call will be worth your while! 217-735-2223 x302 and speak with Chad today.

Send a link to a friend
---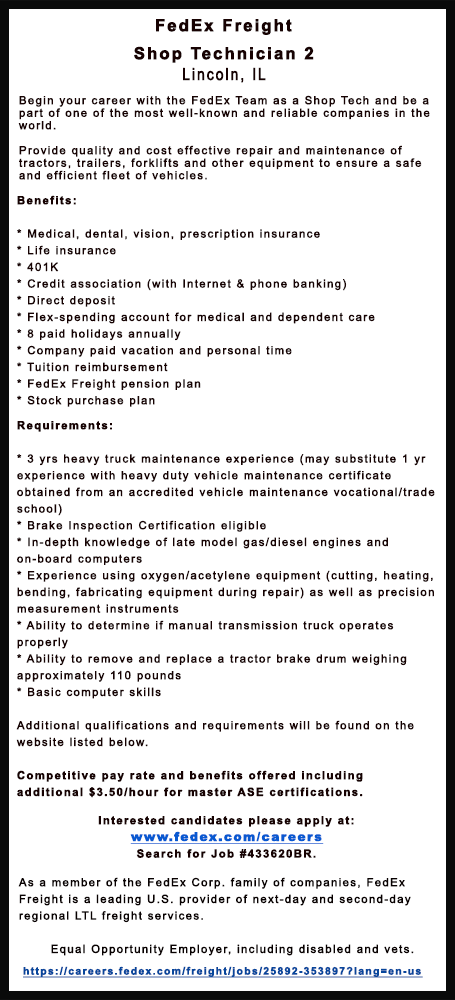 Send a link to a friend
---
The Logan County Sheriff's Office dispatch center is currently seeking applications for full and part-time Telecommunicators.

Starting salary for entry level full time Telecommunicators is $31,711.00 plus benefits.

Part-time Telecommunicators begin at $14 per hour.

This position requires shift work that includes holidays and weekends.

For an application please visit our website at www.logancountyil.gov/sheriff.

Applications are accepted on a continuous basis.

Please submit completed applications to the Logan County Sheriff's Office Attn: Logan Dispatch, 911 Pekin Street, Lincoln, IL 62656. The Logan County Sheriff's Office is an equal opportunity employer.


Send a link to a friend
---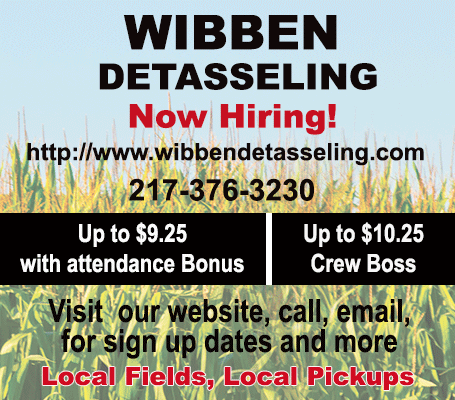 Send a link to a friend
---