| | |
| --- | --- |
| Abe's Caramel Corn Shoppe | Atlanta National Bank |
| Michelle Bauer/Adam Nagrocki Country Financial | Dunkin Donuts |
| St. Clara's Rehab & Senior Care | Tri-county Special Education |
Today we recognize the pink worn by our friends at Abe's Caramel Corn Shoppe, Atlanta National Bank, Michelle Bauer/Adam Nagrocki Country Financial, Dunkin Donuts, St. Clara's Rehab and Senior Care, and Tri-County Special Education. Thanks to all for putting on the pink in support of your friends, family and neighbors. With this group, the total number of photos that have been published comes to 102, with more than 40 left to go.

When we talk about numbers, it brings to mind the question, how many different types of cancer are there? Well, the answer is 74. Think about it, 74 types of one disease. While October is breast cancer awareness month and wearing pink is all about breast cancer awareness, we can't forget that many other forms of cancer impact the lives of people we love. If you have a family member or friend who is engaged in any kind of cancer battle, there is information on the American Cancer Society website that can help you learn more about what they are battling. Go to the Cancer A to Z page on the website for more information.
Photo by Karen Hargis, Roy Logan,
See: 2019 Paint the Paper Pink - Pink Shirts for Breast Cancer Support - Album
---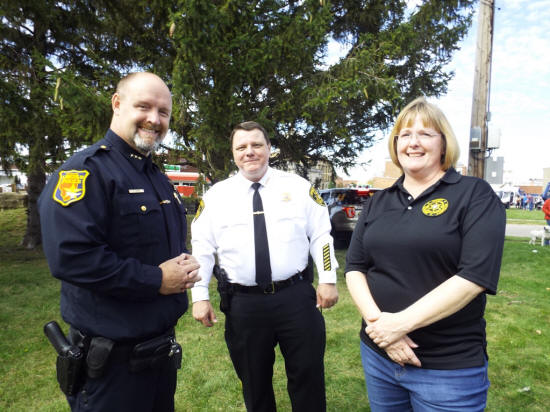 Lincoln Police Chief Paul Adams, Logan County Sheriff Mark Landers and Tina O'Hara with the sheriff's department enjoy a chat on the lawn of the Logan County Safety Complex on Saturday. The lawn was the site of the Sheriff's EMA "Show and Tell" event, held to acquaint the community with the specialized equipment used by various local departments in times of emergency.
Photos by Nila Smith