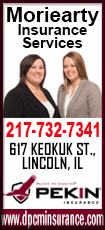 Roger wanted a big dog and Jeannie had a lead from a friend on a rescued English Cream Golden Retriever. Like a Golden Retriever, an English Cream Golden Retriever is intelligent, loving, and loyal. Both breeds are friendly and good-natured, but the English Cream Golden Retriever tends to be more laid back making them attractive to families with young children and elderly. While this home scenario was not the case for the Bakken's, Jeannie still believed an English Cream Golden Retriever would be a great fit and would fulfill Roger's desire for a big dog.

Finding a family Shih Tsu breeder in Rend Lake, the Bakken's decided they would send a check after the holidays to secure a puppy in the next litter. With a down payment they were guaranteed first pick. With the two dogs in their sights, the Bakken's were ready to adopt their fur family. However, when Jeannie checked the rescue website for the English Cream Golden Retriever, a picture of three Shih Tsu puppies was the first thing listed, the check never got sent to the Shih Tsu breeder.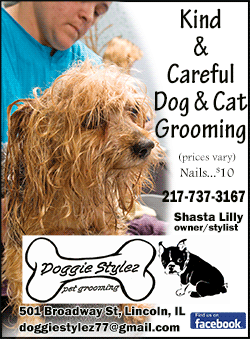 Founded by Jean Ann Hert, Ruby's is an animal shelter and boarding facility. The non-profit rescue works on saving dogs, getting them vetted, and finding forever homes. Adoptable dogs can be found on their Face book page, Petfinder, and website: www.rubysrescueandretreat.org. An adoption fee includes each dog being vetted and receiving dentals. To adopt a potential forever home, one must apply with two personal references and a vet reference. Over 25,000 people follow Hert and her work with rescue dogs.

The trio picture with Santa was on Ruby's Face book page and Jeannie fell in love at first sight. Hert was desperately trying to find someone to adopt all three Shih Tzu's instead of separating the bonded pups.

All that is known about the former owner is that he went into an unexpected coma and his mom decided it would be best to surrender the puppies.

There were many people who requested to adopt one or two of the dogs, but Hert was having trouble finding someone willing to take all three. One applicant was approved and then backed out at the last minute. At this point, there were many followers of Ruby's Rescue and Retreat who offered to help with adoption fees in order to keep the puppies together.

Jeannie applied thinking she would never hear back about her application. Shockingly, four days later she got an email from Hert that the references had not responded. Jeannie contacted them requesting a positive recommendation. It was soon after that she saw on the Face book page, "Adoption Pending." She said to Roger, "Do you think she's talking about us?"

As soon as Jeannie read, "You've been approved" she thought, "What have I done?" Being super detailed, Jeannie started adding up the pros and cons of having three dogs living in her house. It was hard for her to believe that she was about to adopt three Shih Tzu's. Roger told her, "Let God decide. If He wants us to have them then we'll get them." Her best friend told her to "stop over thinking things."
With encouragement from others, the Bakken's welcomed Truman, Preston and Jasmine into their home in December 2019.

The Bakken's weren't sure they were going to be able to pick up the puppies right away because they already had plans for Christmas and New Year's Eve. They were worried about getting the trio and leaving them alone in the house for long periods of time. A dear friend and neighbor, Bob Duvall, who had been invested in the adoption process, offered to help with the puppies while the Bakken's were busy. He declared himself the "Dogfather" to the puppies and has been involved since the first day the dogs were rescued.
Truman, the oldest, is nine years old. He is a little overweight at 21 pounds, which is big for a Shih Tzu. He prefers to play with humans, enjoying wrestling when it is offered to him. As the Alpha male, he is a little more demanding than his siblings and is having a little trouble adjusting to Roger, but after 30 days things between the two are improving. When tired, Truman sometimes acts like a cranky old man and is better off left alone.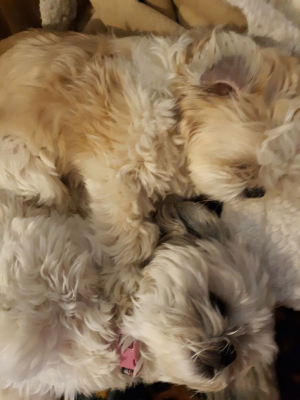 Preston is deaf. Likes to sleep with his sister so he knows when it's time to get up.
Preston is six years old. He is deaf and endeared to his sister Jasmine. He is the orneriest of the three, allowing his nose to get him into tight spaces he can't get out of by himself. He is a "daddy's boy" and cries for Roger when he needs attention. The Bakken's are working on hand signals to communicate with Preston since he can't hear their verbal commands.

Jasmine, the only girl and sweetest of the Trio, is also the youngest. She is happy to sit in someone's lap and demand their affection. She loves to play ball and play with Preston. She is super-sweet and enjoys taking care of Preston, letting him know when it is time to get up in the morning, someone is at the door, and it is time to go outside.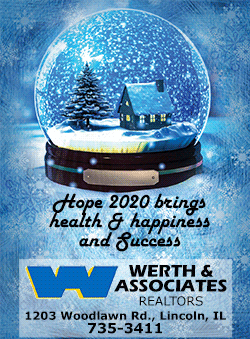 Ruby's Face book page had over 2,000 people respond to the adoption, so Jeannie started a page called "Just for ShihTzus & Giggles" so those interested could keep up with the trio. To date, there are 450 members following the page. The page is updated with puppy antics and pictures. The Bakken's will soon be taking the dogs to Petsmart to help Hert with a fundraiser for Ruby's Rescue and Retreat. They want to be ambassadors for Hert and the work she is doing to save dogs.

It's only been a month, but the Bakken's are having a wonderful time with their family members. Jeannie concludes on her Face book page, "These 3 have been such a blessing! They have turned our lives upside down in every possible way, and we are loving every minute of it!"